A bill that would allow for the sale of syringes in pharmacies without a prescription has cleared the New Jersey legislature with bipartisan support and awaits the governor's signature. The bill, Assembly Bill 1088, passed the Assembly Monday on a 54-24 vote; a companion measure passed the state Senate in February on a 28-12 vote.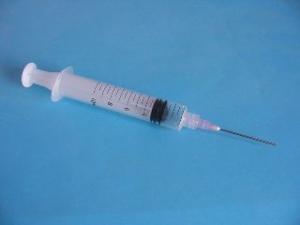 An ever-growing body of evidence supports increased access to sterile syringes to reduce the spread of blood-borne diseases, such as HIV/AIDS and Hepatitis C. While New Jersey passed a law allowing for needle exchanges in 2006, the law capped their number at six.
The bill would allow for the purchase of up to 10 syringes without a prescription. It also decriminalizes the possession of needles bought from a pharmacy without a prescription.
New Jersey is one of only two states that still bans over-the-counter syringe sales. The other is neighboring Delaware.
The bill was sponsored by Assemblyman Reed Gusciora (D-Mercer), Assemblyman Gordon Johnson (D-Bergen), Assemblyman Craig Coughlin (D-Middlesex), Assemblywoman Joan Voss (D-Bergen), Assemblywoman Cleopatra Tucker (D-Essex), Assemblywoman Joan Quigley (D-Bergen and Hudson) and Assemblyman Thomas Giblin (D-Essex and Passaic).
"This is a historic moment," said Roseanne Scotti, New Jersey state director for the
Drug Policy Alliance
. "This is the first time the New Jersey legislature has voted to join the overwhelming majority of other states in allowing limited sales of syringes without a prescription. This legislation has overwhelming support from the medical and public health community. Governor Christie now has the opportunity to sign this legislation that will help end AIDS and save lives."