Drugs and Drug Policy: What Everyone Needs to Know, by Mark Kleiman, Jonathan Caulkins, and Angela Hawken (2011, Oxford University Press, 234 pp., $16.95 PB)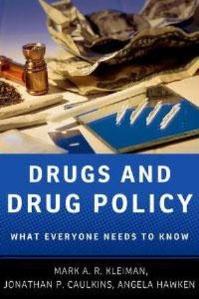 Mark Kleiman isn't real popular among the drug reform set. The UCLA professor of public policy is no legalizer, and even though he's too much of an evidence-minded academic to be a wild-eyed drug warrior, he still seems to have an unbecoming fondness for the coercive power of the state. Kleiman, who gets top-billing over coauthors Jonathan Caulkins of Carnegie Mellon and Angela Hawken at Pepperdine, also ruffles reformers' feathers with unnecessary snideness and snark.
But I watched Kleiman address Students for Sensible Drug Policy conventions a couple of times, and I thought it was a good thing, a very useful jolt to the group-think that can grip any gathering of congregants committed to a cause. I thought having the students have to hear the arguments of a leading academic thinker on drug policy who, while not "the enemy," was not especially saying what the average SSDPer wanted to hear, was salubrious for their critical thinking skills. I still think so.
In
Drugs and Drug Policy
, Kleiman and his coauthors continue with the occasional jibes aimed at the drug reform movement, at times reach conclusions at odds with my own, but also serve up a surprisingly chewy work of drug policy wonkery in delicious bite-size chunks. The innovative format, something like a series of FAQs organized within broader chapters -- "Why Have Drug Laws?" "How Does Drug Law Enforcement Work?" "What Treats Drug Abuse?" "Can Problem Drugs Be Dealt With at the Source?" -- allows us to unpack that all-encompassing monster called "drug policy" one subset at a time, and for that achievement alone, is worthy of praise. That it manages to cover so much ground in a paltry 234 pages is all the more laudable.
Overall,
Drugs and Drug Policy
is smart, reasonable, and thoughtful. It wants policies based on evidence and it advocates for some intelligent alternatives to current policies. It recognizes the utility of needle exchanges, safe injection sites, and opiate maintenance, even as it complains that "harm reduction" has been hijacked by legalizers. It explains that most people who use drugs -- even those diagnosable as suffering from substance abuse disorders -- will quit using drugs themselves without recourse to treatment. And it even allows that drug use can have beneficial effects, even if it doesn't do so until the seventh chapter.
But Kleiman
et. al
dismiss decriminalization as unlikely to have a big impact on the social fiscal burden of drug law enforcement because, even though it doesn't appear to have much impact on consumption, drug consumers are not, for the most part, filling our prisons -- drug dealers are. While they do concede that not criminalizing otherwise law-abiding citizens could have "significant benefits," they seem to underplay the negative, life-long impact of a criminal drug record on one's life prospects.
In fact, they seem all too comfortable with maintaining the pernicious role of the criminal justice system in drug policy even as they recognize that enforcing the drug laws is "unavoidably an ugly process," with its reliance on snitches, surveillance, and other "intrusive methods" of enforcement. To give them credit, they want
smarter
drug law enforcement -- concentrating police repression on violent drug dealers while turning a blind eye to discreet dealing, triaging coerced drug treatment spots so they are reserved for the people who could most benefit from them, giving up on interdiction and source country eradication as ineffective -- that might actually reduce the social and fiscal costs of both drug abuse and enforcement, and since drug prohibition isn't going away anytime soon, at least wasting less money on drug war tactics that don't work well should be on the table.
And they reject drug legalization as too scary to experiment with, but seem to imagine it as possible only within a corporate-controlled, heavily-advertised, low-priced scenario similar to that which has accreted around the alcohol industry. Yes, it's probably true that selling cocaine like Coors, would lead (at least initially) to a significant increase in use and problem use, but why does that have to be the only model? A government monopoly similar to the state liquor store model, with reasonable taxes and no corporate pressure to advertise could conceivably allow legalization without the increases in consumption that the authors predict, even though they concede they don't know how large they might be.
Still, when you get to what it is Kleiman
et al.
would do if they had their druthers, all but the most purist of legalization advocates will find a lot to like. They create three separate lists of recommendations -- a "consensus list" of reforms they think are politically doable now or in the near future, a "pragmatic list" of reforms that would appeal to dispassionate observers but could raise the hackles of moralists, and a "political bridge too far list" of reforms too radical for mainstream politicians to embrace.
The "consensus list" includes expanding opiate maintenance therapy, encouraging evidence-based treatment, early intervention by the health care system, encouraging people to quit on their own (as opposed to being "powerless"), relying less on interdiction, ending the charade that alternative development is drug control, and concentrating drug enforcement on reducing violence and disorder, as well as smarter, more effective coerced treatment in the legal system. If we saw the drug czar's office produce a National Drug Control Strategy with these recommendations, we would consider that a great victory. It ain't legalization, but its headed in a more intelligent, more humane direction.
The "pragmatic list" includes recommendations to lower the number of drug dealers behind bars, not reject harm reduction even if it's been "hijacked," stop punishing former dealers and addicts, reduce barriers to medical research on illegal substances, and be open-minded about less harmful forms of tobacco use.
The authors don't neglect alcohol and tobacco -- the two most widely-used drugs -- and that is really evident in their "political bridge too far" recommendations. The first three items there are aimed squarely at reducing alcohol consumption and its ill effects. They also argue for the legalization of individual or collective marijuana cultivation, a sort of legalization without the market, increased study of the non-medical benefits of drugs, and increasing cigarette taxes in low tax states.
I think
Drugs and Drug Policy
needs to be read by anyone seriously interested in drug policy reform. It hits almost all the bases, and it's well-informed, provocative, and challenging of dogmatic positions. You don't like the authors' conclusions? Refute them. It'll be good for you.