Montana Gov. Brian Schweitzer already vetoed a medical marijuana repeal bill this session, and now, medical marijuana advocates are calling on him to repeal a bill that won final passage in the legislature last Thursday, a bill they call "repeal in disguise."

But it's unlikely they will get their wish. Schweitzer held a press conference last Friday saying he would neither veto nor sign the bill, thus allowing it to pass into law without his signature.

"So I will hold my nose and allow this to be law until the Legislature gets back to session (in 2013)," he said. "I'm not going to sign it. I guess I could veto it. I could say that this is a danged-poor bill, and you started out with a good bill (from an interim committee), and you went downhill for almost 88 days. But I'm kind of painted in a corner. They painted Montana in a corner. They accepted some of the language that I believe makes the bill constitutional. So that is good. Is the bill perfect? Not even close. But can I veto and allow the Wild West go on for the next couple of years? I don't think so."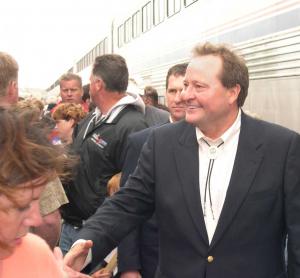 The legislation,
Senate Bill 423
, was originally designed to regulate Montana's burgeoning medical marijuana industry, but was heavily amended in the legislative process and now contains provisions unacceptable to medical marijuana advocates. The governor also has serious problems with it. He called it "unconstitutional on its face" earlier this week.
Advocates say the bill, the work of the Republican leadership in the state legislature, now seeks not to regulate but to cripple Montana's medical marijuana program. Among other provisions designed to hobble medical marijuana, the bill calls for providers to be limited to growing for three patients and to receive no compensation -- not even the repayment of expenses incurred -- for their efforts. Providers could produce smokable marijuana or edibles, but not both.
The bill also requires that law enforcement be notified of a person's status as a medical marijuana patient and, if the patients grows his own medicine, allows for his grow to be inspected by law enforcement at any time. It requires that patients seeking relief for chronic pain, the most common ailment for which medical marijuana is recommended, undergo two separate physician exams.
The bill restricts physicians to writing recommendations for no more than 15 patients per year. Physicians who write more than 15 recommendations would be subject to investigation by the state medical board -- at their own expense. The bill also bans laboratories that test medical marijuana for safety, content, and quality control reasons.
"We came to the 2011 session seeking to work constructively with legislators, law enforcement and numerous civic groups to develop smart regulations that would close loopholes, end abuses, and create a strictly regulated program that would serve legitimate patients and meet the needs of law enforcement and local community values," said a broad coalition of Montana medical marijuana organizations in a joint statement after the bill's initial passage Tuesday.
"Unfortunately, the legislature roundly rejected a number of bipartisan proposals that had strong support from all concerned. Ultimately, the views of physicians and patients were dismissed and the opinions of growers with a unique knowledge of the challenges involved in growing medical-grade cannabis were ignored. Instead of ending up with workable but rigorous oversight, we've been given a prospective wasteland, with the very best of what has emerged over the past few years potentially outlawed by the legislature. This deliberately unworkable repeal in disguise deserves a veto brand as much as the repeal bill did," the groups said.
The groups signing onto the statement included
Patients & Families United
, the
Montana Medical Growers Association
,
Solutions for Montana
,
Alliance for Cannabis Science
,
Montana Botanical Analysis
,
Cannabanalysis Laboratories
,
Citizens for Cannabis Comprehension
,
Montana Connect
and
Montana NORML
.
"SB 423 is written to fail patients, not to fulfill compassionate voter intent in ways that also will work well for law enforcement and communities," the groups argued. "We call on Gov. Schweitzer to veto the bill and instead to aggressively use administrative authorities under the existing law to create effective regulation."
Gov. Schweitzer had similar issues with the bill as passed Tuesday, and on Thursday, he sent a
letter
to the legislature outlining amendments that would make it acceptable to him. Those include:
Increase the number of cardholders for whom medical marijuana providers or manufacturers may provide products, from the three to 25 people.

"I believe SB423 makes access to medical marijuana far too difficult for patients, many of whom are suffering chronic and severe illness and do not have the physical or financial ability to grow their own marijuana to treat their debilitating condition," Schweitzer said. "Patients must be able to obtain medical marijuana from legitimate sources with a reliable product." But the 25-patient limit will "prevent the large grow operations that boomed under the current law."

Remove the restriction on providers from making a profit for providing medical pot or marijuana products.

"My amendments do allow a provider to charge for their plant products and lift the no-profit restriction from the bill," he said.

Allow a provider to be both a grower and manufacturer of marijuana-infused products.

"There has been no testimony that this now common practice has been a problem," he said.

Increase the number of patients that a physician could recommend medical marijuana before triggering a review by the state Board of Medical Examiners.

The bill puts the number at 15; Schweitzer recommended increasing that to 50, which, he said, "will still certainly curtail the number of cardholders."

Require two physicians, rather than one, for a minor to be certified to be treated with medical marijuana in an edible form or topical cream.

Revise the bill to address constitutional problems concerning the medical marijuana patient's privacy.

"The blanket disclosure requirement in the bill would never survive the strict scrutiny stand for invading a patient's right to privacy," he said."Handing over a list of cardholders to law enforcement is unfair to vulnerable patients who legitimately qualify for a card," he said. "I fear it would drive those patients to the illegal market for marijuana."

Change the bill so as not to allow law enforcement unlimited access, without permission or warrant, to the private homes of cardholders who grow their own marijuana.

"Patients who grow their own plants were not the genesis of any of the problems that arose under the current law and should not now be subject to warrantless searches," Schweitzer said. "If law enforcement officers believe a patient is diverting their marijuana or growing beyond the allowed limits, they should properly investigate the matter, gain access through consent or through a search warrant."

Transfer the revising authority for approving a new medical condition for eligibility for medical marijuana treatment from the Legislature to the Department of Public Health and Human Services.

Provide for "a more rational transition time" for providers to register and comply with the new law. He would make new effective date for some provisions Oct. 1 and for others July 1.

Require providers who grow and manufacture marijuana products to register their location with the Department of Public Health and Human Services.

Give the department rule-making authority to enable cardholders to receive a list of medical pot providers in a particular area.

"Given that SB423 prohibits advertising and storefronts may be prohibited by local jurisdictions, it is essential patients are able to find a provider," Schweitzer said.

Give the Department of Public Health and Human Service authority to adopt rules regarding the transportation, possession of samples and testing and labeling of marijuana by laboratories around Montana.
But the legislature wasn't listening. While it did agree to remove the provision turning cardholders' names over to law enforcement and it agreed that providers could produce both buds and edibles, it kept the number of patients caregivers could serve at three and it kept the provision barring any compensation to medical marijuana providers, effectively gutting the state's emergent dispensary system.

"I don't believe the voters in 2004 voted to establish a regulated industry," said bill author Sen. Jeff Essman (R-Billings). "I believe we have taken a great step forward if we pass this bill today. I believe this allows truly ill individuals reasonable access, and I do believe reasonable access will be here," says Essmann.

The medical marijuana community disagrees, and had been counting on Schweitzer to come through with a veto. But now there are only a couple of days left to get him to change his mind. The decision is now Gov. Schweitzer's, and the clock is ticking.