The Drug Policy Alliance will have approximately $750,000 to allocate during the 2011/2012 Promoting Policy Change grant cycle. Promoting Policy Change is a fund that has a two tier application process. We require an LOI to initiate the relationship, and thereafter, a proposal from those invited to apply. The deadline for the LOI is is Friday, April 29 at midnight EST.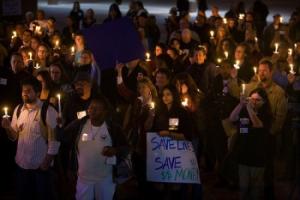 The LOI should include a single page that includes your organizational name and all contact information; if you are a 501(c)(3); what the mission of your organization is; and what the specific goals and deliverables you propose are. If you are invited to apply, you will be notified on or about May 15th, and the deadline for proposals requested is June 20, 2011 at 8:00pm EST. Through the annual Promoting Policy Change grant cycle -- which does not accept unsolicited proposals -- we seek to broaden public support for drug policy reform and will fund invited organizations who have continually demonstrated strategic and innovative approaches to increase such support.
We invite proposals designed to:
Educate the public and policymakers about the negative consequences of current local, state or national drug policies.
Promote better awareness and understanding of alternatives to current drug policies.
Broaden awareness and understanding of the extent to which punitive prohibitionist policies are responsible for most drug-related problems around the country.
The program provides both general operating support and project specific grants. All grantmaking is directed at organizations working within the United States, with particular emphasis on state-based activity. Strategic, geographic or thematic collaborations are strongly encouraged. Generally, the cap on grants awarded during the Promoting Policy Change cycle is $50,000, although most grants average between $15,000 and $25,000.

The Program will make grants to organizations that have been invited to apply and who demonstrate a clear ability and commitment to educate the public about the need for broad drug policy reform. Priorities for this grants program include organizations focused on one or more of the following:
Public education campaigns and litigation to raise awareness of the negative consequences of current local, state and national drug policies.
Organizing and constituency mobilization efforts which raise awareness about the negative consequences of local, state or national drug policies.
We define important public education efforts as those that speak to:
the failures and consequences of drug polices in the United States and the possible benefits of policy alternatives to criminal prohibition;
the reduction of the reliance on the criminal justice system by raising awareness of the need for alternatives to incarceration and/or a more health-based approach to drug use;
discrimination in employment, housing, student loans and other benefits against those who use drugs or who have been convicted of drug offenses;
the negative consequences of current drug policies on human rights; and
efforts that mobilize people to organize and demonstrate around the disproportionate impact on communities of color and youth.
Decisions are made in mid to late September. No early decisions are ever made. LOIs should be mailed to both asha bandele and Teresa Bonomo at [email protected], and [email protected]. Visit http://www.drugpolicy.org/about-us/advocacy-grants-program for further information.