Bills that would require new applicants for temporary welfare assistance to undergo suspicionless drug tests -- and pay for them themselves -- are advancing in the Florida legislature. On April 13, House Bill 353 passed the House Health and Human Services Committee. That same day, the Senate version of the bill, Senate Bill 556, won approval from Senate budget subcommittee. Both votes were party-line votes in the Republican dominated legislature.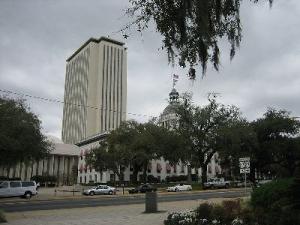 Under the legislation, applicants who fail a drug test would be barred from receiving cash assistance for one year. Failing a second drug test, would mean a three-year ban. Children of rejected applicants could receive benefits if they can find another adult who can pass the drug test to be a payee.
Republicans voting for the bills argued that since many taxpayers must endure drug testing on the job, it was only fair that welfare recipients be tested as well. They also argued drug testing would provide an incentive for drug abusers to seek treatment.
Democrats and their supporters retorted that suspicionless drug testing would likely be found unconstitutional. They also argued that it would be unfair to force people seeking assistance because they're poor to pay the estimated $35 cost of the drug test.
"We believe it is not quite reasonable to expect folks who are applying for temporary assistance to undergo drug testing that they must pay for," said Michael Sheedy of the Florida Catholic Conference, who testified against the bill.
"It may seem a little onerous telling folks they need to get drug tested," conceded Sen. Rene Garcia (R-Hialeah). "But at the end of the day, I want to help people who want to help themselves."
"We're heading into a court challenge with this," warned Sen. Eleanor Sobel (D-Hollywood).
The only state to pass a suspicionless welfare drug testing ban was Michigan, but that law was struck down by a federal appeals court in 2002. The court held that testing without particularized suspicion violates privacy rights and the Fourth Amendment's protection against unwarranted searches.
That hasn't stopped drug testing bills aimed at welfare recipients, unemployment seekers, or other convenient scapegoats from being a perennial favorite of pandering politicians. Although no state has passed a bill since the 2002 court decision, bills have been filed in at least 16 states this year.
The House bill now awaits a floor vote, while the Senate bill goes before the Budget Committee Friday, and then, if approved, on to a floor vote.