A Kentucky sheriff gets caught with his hand in the cookie jar, a Texas deputy gets busted for protecting a drug dealer, two Southern California cops get nailed for doing robberies disguised as drug busts, and a small-town Wisconsin cop lets her crack habit get the best of her. Let's get to it: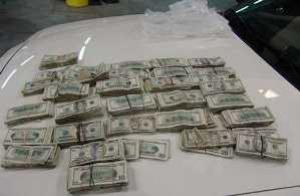 In Carlisle, Kentucky,
the Nicholas County sheriff was indicted October 18
for stealing $43,000 in cash from the department's drug asset forfeiture account. Sheriff Leonard "Dick" Garnett was indicted by a Nicholas County grand jury on charges of unlawful taking of more than $300 and abuse of public trust of more than $10,000. He is also accused of spending more than $10,000 in federal asset forfeiture funds for his own personal use. Garnett, who used some of the money to make car payments on a vehicle not owned by the county and some to buy exercise equipment, went down after a state auditor checked the county's books. He is out of jail and running unopposed for reelection as sheriff next week.
In Houston,
a Harris County sheriff's deputy was arrested Monday
for allegedly accepting bribes to access confidential law enforcement data bases and providing protection for an ecstasy dealer. Deputy George Wesley Ellington, 38, is accused of twice receiving $500 for accessing the data bases and providing protection for a person he believed to be possessing and transporting ecstasy. He is looking at up to 20 years of prison on the two counts.
In Los Angeles,
two former Southern California police officers were convicted Wednesday
of participating in a robbery ring that disguised home invasions as drug raids. Brothers William and Joseph Ferguson, the former an ex-LAPD officer and the latter an ex-Long Beach officer, were convicted of various charges, including conspiracy to deprive people of their rights under color of law and conspiracy to possess marijuana and cocaine. William Ferguson was convicted on 13 counts and acquitted on five more, while his brother was convicted on three counts. They were part of a ring that conducted about 40 robberies from 1999 to 2001 in which members would steal cash and drugs, then sell the drugs on the street. Fifteen people have pleaded guilty in the investigation, including the gang's ringleader, former LAPD officer Ruben Palomares, who worked with William Ferguson at the scandal-plagued Rampart Division until both were fired in 2003.
In Madison, Wisconsin, a
former Platteville police officer pleaded guilty October 20
to maintaining a drug house. Michelle Salentine, 29, was arrested in April over allegations she was using drugs while in uniform and again in October as she and her brother sat and argued in a parked car. In that bust, police found heroin, cocaine, marijuana, drug paraphernalia, and a kit to defeat drug tests. Salentine admitted being strung out on crack and allowing about a pound of cocaine to be stored at her home. She's looking at up to 20 years in federal prison.