Colorado is proposing to enact a medical marijuana tracking system in which everything from marijuana grows to patient purchases to the manufacture of pot brownies would be under constant remote video surveillance where agents could monitor it all. The proposal is giving medical marijuana advocates the creeps.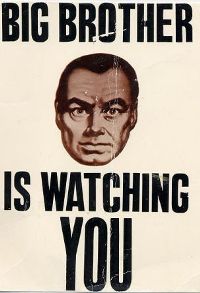 The proposal comes in the form of
draft regulations
promulgated by the Department of Revenue's new Medical Marijuana Enforcement Division. The division was created by legislation passed this year and signed by Gov. Bill Ritter (D) on June 7. Its purpose is to strengthen oversight over Colorado's growing medical marijuana industry.
The system would be the first in the country to track medical marijuana "from seed to sell," Julie Postlethwait, a spokeswoman for the division told the
Denver Channel
. The goal would be to prevent people using forged medical marijuana cards and to quickly track down pot contaminated with mold or marijuana food protects that are tainted. "We want to protect the patient. This is medicine," Postlethwait said.
"This in the long run legitimizes and helps the industry," she added. "They're caregivers. They want to provide the best quality medicine out there."
But medical marijuana advocates criticized the proposal as costly and overly intrusive.
"There is no conceivable justification for this system," said Robert Chase, a leader of the Colorado Coalition for Patients and Caregivers. "It goes beyond the systems that we use to control opiate narcotic drugs, which are demonstrably much, much more dangerous. There are valid concerns about the Big Brother issue," Chase said.
Chase pointed to other provisions in the draft proposal requiring medical marijuana to be transported in tamper-proof containers and to make growers and dispensary employees provide fingerprints at each step in the supply chain.
"It's a highly intrusive process of having to give fingerprints and being under constant video surveillance. It invokes George Orwell's '1984,'" Chase said. "The whole thing is preposterous," he said.
The draft regulations are not a done deal; indeed, they are very much a work in progress. The division has formed a working group of medical marijuana growers, providers, caregivers, patients, doctors, and law enforcement to continue to work on the draft rules.
The Medical Marijuana Work Group will hold hearings on October 4 and 21 in Lakewood. The public can attend, but not address, those hearings.