After a weeks-long courtship with the Service Employees International Union (SEIU) failed to be consummated with cash, organizers of the Washington state marijuana legalization initiative, I-1068 are, on one hand, vowing to fight on, and on the other, suggesting the effort could be called off soon for lack of funds.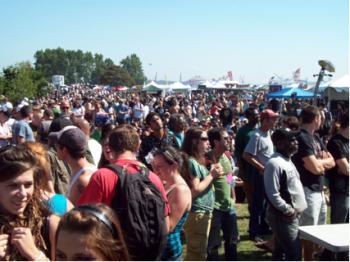 Sensible Washington
campaign chairman Doug Hiatt told the
Associated Press
Monday that the group had gathered 100,000 signatures to get the initiative on the ballot, but they need 241,000 valid signatures by July 2 to make the ballot. The group had been counting on the SEIU to help with paid signature gathering, but on Monday, the SEIU said it had decided not to support the effort.
Adam Glickman, vice president of SEIU Local 775, told the AP the union had contributed $10,000 to the campaign for polling and signature vetting and that research had suggested having the initiative on the November ballot could increase liberal turnout in the fall. But Sensible Washington's lack of financial resources raised questions about whether it could in fact get out the vote come November.
He also cited the ACLU of Washington's opposition to the initiative. The ACLU opposes the initiative because, it says, it does not provide a regulatory framework. The ACLU is correct -- the initiative simply removes marijuana offenses from the criminal code -- but Sensible Washington argues that if the initiative were to pass, the legislature and local authorities would be quick to act to set up a regulatory regime.
"There's some merit in the campaign," Glickman said. "It seemed worth looking at as a good policy proposal. But as we looked more into it, there were too many questions about the policy, too much division among the stakeholders. We concluded it wasn't the right time to get involved."
"It's really unfortunate, but you cannot do this without money," Hiatt said of the SEIU's decision. "I never intended I-1068 to be an all-volunteer effort. We'll make a decision in a couple days about whether we're going to go forward."
Campaign spokesman and initiative coauthor Philip Dawdy was less fatalistic. "Politics in this state stinks," he said in a press release Monday. "Marijuana smells better. It's disappointing that SEIU and others have walked away from us, but this campaign will fight on because the issue is simply too important."
"If we get some more volunteers, we can legalize marijuana in Washington State," added Jeffrey Steinborn, an initiative coauthor and Seattle-based attorney who has defended marijuana users for three decades.
The group said it has 20,000 petitions in circulation -- enough for 400,000 signatures -- and is urging activists to send them in sooner rather than later. But now, it's beginning to look like Sensible Washington's uphill battle just got a lot steeper.