Late last month, Pennsylvania state Senate Republicans -- and one Senate Democrat -- held a press conference at the statehouse in Harrisburg to roll out their "Methadone Accountability Package." The package, they said, aims at increasing safety and fiscal accountability and reducing the illicit use of methadone and methadone overdose deaths. A related Senate resolution is also calling for a moratorium on new methadone treatment centers. But methadone treatment advocates and researchers are cautioning that the package may be unnecessary, and are calling for any legislation on methadone to be based on facts and scientific evidence -- rather than overheated rhetoric and anecdotes.
Drug overdoses have risen nationally in recent years, with the increase generally being attributed to increased use of prescription medications such as methadone and buprenorphine. Advocates have suggested overdose prevention approaches such as "Good Samaritan" policies protecting people who call for help -- Washington state's legislature enacted one this week -- or distribution of the overdose antidote naloxone, as ways of stemming the tide. But the PA package announced this week goes a different direction.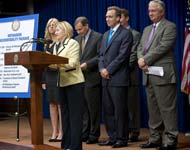 While the bundle of bills addresses keeping track of methadone-related deaths (SB 1293), diversion control (SB 1376), driving while using methadone (SB 1377, SB 1378), and micromanaging methadone maintenance treatment (SB 1382, SB 1383), the bill that strikes most directly at methadone maintenance treatment for opiate-dependent individuals, is
SB 1294
, the Methadone Addiction Prevention and Treatment Act, introduced by Sen. Mike Stack (D-District 5). Stack's bill would mandate that:
Potential patients be addicted to opiates for at least one year before methadone treatment is considered;
Potential patients must have twice failed other forms of treatment;
Patients have a written plan with goals and dates to be free from drug dependence, including methadone, within two to three years;
Patients must have a designated driver come with them to the clinic for the first two weeks of treatment; and
Driving under the influence of more than the prescribed dose of methadone be a violation of state driving under the influence laws.
"Pennsylvania needs better laws to prevent methadone abuse and provide patients with the proper protections and treatment plans they need to achieve a lifetime of sobriety," Sen. Stack said. "This package of bills is a solid step toward achieving those goals."
"Pennsylvania's law has not kept pace with the changes in the prescription of methadone -- and too frequently with deadly consequences," said Sen. John Eichelberger (R-District 30). "Methadone is a drug with its own unique properties. One pill or one dose can kill a non- or low-opiate-tolerant person. Even a day or two after the drug is taken, it has led to fatalities for those who mix alcohol or other drugs."
The senators cited reports from the National Drug Intelligence Center that unlawful diversion of methadone had more than doubled between 2003 and 2007 and from the National Center for Health Statistics that the number of methadone overdose deaths had increased nearly five-fold, with OD deaths among young people (15-24) increasing eleven-fold.
Not so fast, say experts. "Let's be careful about this; there are a lot of lives at stake here," said Eric Hulsey, director of performance, evaluation, and program development at the Institute for Research, Education, and Training in Addictions in Pittsburgh. "If the intention behind this stuff is better clinical care, that's a great thing, but we have to caution that it needs to be grounded on evidence-based practice."
Hulsey and National Association for Medication Assisted Recovery president Roxanne Baker also questioned some of the specifics in SB 1294. For Baker, the objections are a bill-killer.
"I would have to oppose this bill because it's too restrictive," she said. "There are already state and federal regulations on methadone treatment centers. Medicine is best left to doctors, not legislators."
Baker objected to the bill's provision for pushing methadone maintenance patients to get off the drug. "They really push the methadone abstinence schedule, don't they," she said. "Here in California, they just say it would be 'harmful to the patient' to taper off. I don't know why that needs to be in there; they don't make you taper off thyroid medication or insulin."
Hulsey didn't see a lot of evidence that methadone maintenance clinics are behind the problems being cited by the politicians. "Methadone prescribing has gone up seven-fold around the country, and we've seen all these methadone overdoses. Most of the federal reports and researchers have concluded that this is coming from the pain management clinics, yet everyone wants to crack down on the methadone treatment clinics."
Methadone treatment clinics are operated under different and stricter sets of regulations than pain clinics, Hulsey said. "It's unclear what the pain clinics are doing to prevent adverse incidents at their facilities, but it is clear that most diverted meds are coming from pain management, therefore, let's legislate against methadone maintenance clinics?"
Not that cracking down on pain clinics is the answer either, according to NAMA's Baker. Pointing out that methadone maintenance clinics are not the problem is fine, she said, but let's not be too quick to go after pain doctors. Citing the massive under-treatment of chronic pain in this country and her own decades-long experience with methadone in both the treatment and the pain clinic milieus, she said methadone patients already face enough barriers.
"I've been taking methadone since 1974," she said. "I stood in those methadone treatment lines, but now I get my medication from a pain specialist. A lot of people want to do that because they treat you better -- if you can find one who will treat you at all."
And that is a problem, Baker said. "A lot of doctors don't want to treat pain patients because they have the DEA breathing down their necks. We don't need more obstacles."
"This is misdirected legislation," said Mark Parrino, president of the American Association for the Treatment of Opioid Dependence. "Methadone treatment programs have been functioning for more than 40 years with a considerable degree of safety. There have been at least four federal studies showing that increasing methadone mortality is based on that fact that it is increasingly being used in pain management. If the legislation doesn't address the cause of the problem, it has no basis for existing."
"The science doesn't support a hard and fast rule to get off licit opiates," said Hulsey. "It can be very dangerous to put arbitrary deadlines on that. Treatment has to be individualized to promote recovery."
For Hulsey, the bill's requirement that potential patients first twice fail at treatment is just not good policy. "I am not aware of science that supports 'you fail first' policies," he said. "If you go to the expert consensus guidelines for management of methadone facilities, and more importantly, accepted patient placement criteria, you must demonstrate a year's dependency, as well as other thresholds, and that is what should determine appropriate placement. 'Fail first' doesn't capture the full range of factors that experts have agreed upon as the best approach for opiate-dependent individuals."
The consensus guidelines Hulsey cited were SAMSHA/CSAT's Treatment Improvement Protocol 43 and the American Society of Addiction Medicine's Patient Placement Criteria.
"Those are the gold standard for treatment," he said. "They provide a six-dimensional approach to dependence, and you would need to meet those criteria to be appropriately placed in methadone maintenance. It's not appropriate for everybody. Some people may require a detox approach rather than long-term maintenance."
For Hulsey, having the designated driver requirement for new patients was "good risk management," but creating methadone-impaired driving offenses seemed unnecessary. "There are already laws on the books regarding impairment," he said.
Nobody thought the moratorium on new methadone maintenance clinics was a smart move. "They shouldn't do that," said NAMA's Baker. "They don't put moratoriums on doctors who prescribe treatments for diabetics. But there is a lot of NIMBYism in Pennsylvania."
"Addiction is a chronic disease that is treatable when appropriate evidence-based treatment approaches are applied," said Hulsey. "We want to promote recovery and support people rather than limiting access. If we limit the treatment opportunities, we make these people criminals."
Parrino didn't think much of the moratorium idea, either. "You can have a moratorium, but that doesn't reduce the demand for treatment, so what's the rationale for restricting access to care? Do we think the number of people who need this has capped out? That state has to be careful saying that a moratorium seems smart, especially when the problem is not related to the treatment programs you're dealing with," he said.
But methadone maintenance clinics make convenient targets for a number of reasons, said Parrino. "There is NIMBYism, and there is a general stigma about treating addiction, which increases markedly when you talk about the use of medications to treat opiate addiction," he pointed out.
"And elected officials always feel like 'we must do something,'" he continued. "But unless the legislature is able to be more precise in identifying the problem and how to deal with it, I would suggest that they are not addressing the real source of the problem, but doing what seems manageable and convenient. It's easy to say let's put more restrictions on top of a system that is already highly regulated, but pain doctors aren't regulated at all."
So faced with mounting methadone mortality and increasing diversion not linked to methadone maintenance clinics, Pennsylvania legislators are aiming squarely at those clinics. The legislature and the people of Pennsylvania would be better served if this package of bills went back to the drawing board.