David Borden, Executive Director
DEA acting chief Michele Leonhart, and her boss, US Attorney General Eric Holder, are bragging about a major, DEA-led operation that has netted 2,200+ arrests, with pounds of drugs and millions of dollars seized. "
Project Deliverance
" involved more than 300 law enforcement agencies, more than 3,000 DEA agents, and took 22 months. According to DEA's press release, they captured 1,262 pounds of methamphetamine, 2.5 tons of cocaine, 1,410 pounds of heroin, and 69 tons of marijuana, plus $154 million.
Operationally, Deliverance was certainly a big project -- it's easy to see why they're excited. And for the thousands of people throughout the US who were arrested in it, it's a life-changing event, though for the worse. But will Project Deliverance make any real difference in drug use and the drug trade? Is the operation really a big deal, when examined next to the reality of drug use and the drug trade in the United States today?
I hate to be a wet blanket, but if history is a guide, Project Deliverance will have no long-term impact on the drug trade. Though notable in its scale, the operation is only one of many carried out by the US and allied governments over decades. During that time, the measure of drug availability -- price, an increase implies a product is less available, relative to its demand* -- has gone in the opposite of the intended direction, and dramatically. For example, the average US street price of cocaine is less than a fifth in real terms than it was in 1980. Previous drug sweeps have seen their temporary gains erased in just one or two weeks.
The reason is that the big sounding numbers touted by Leonhart, while large for the agency and our government, are small compared with the drug trade and its incentives. Deliverance's 2.5 tons of cocaine constitute less than one percent of the 300 metric tons of cocaine the government estimates are consumed annually in the US. So do the 69 tons of marijuana. They did get a few percent of the heroin, if numbers don't deceive, but even that's still small. And the 2,200 alleged dealers and traffickers arrested in Project Deliverance make up a similarly tiny fraction of the hundreds of thousands of people employed in the US by the illegal drug trade. Some drug businesses will doubtless be extinguished by Project Deliverance, but others will have little difficulty replacing the lost supply or filling the open positions. And how much powder or weed did the investigators let go by during the 22 months it took to complete the operation? How much will they have to let slip by during the months or years it takes to mount the next one?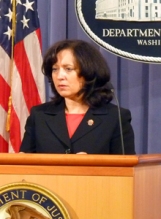 In an uncharacteristically "big picture" review published a few weeks ago, the
Associated Press declared the 40-year drug war a failure
by every measure. Will media follow that lead and go beyond the surface in their reporting on Project Deliverance? I have a few suggestions for those intrepid reporters who would like to:
Ask DEA or DOJ spokespersons if they expect the substances targeted in the sweep to be less available to US consumers of them, and if so for how long.
Ask them if previous operations, individually or collectively, have had that effect. If they say yes, ask them to be specific as to how, and compare their evidence with numbers like the aforementioned cocaine prices.
Do some follow-up, say two or three weeks from now. Ask government officials, cops who walk the drug beat, and drug users, what if any difference they saw in the supply of the targeted drugs after the sweep, and if so if they see still any. Follow up again in one or two months. See if DEA will give you early access to the price data.
Be forewarned that DEA reps will probably be less excited to address those questions than they were for the press conference. But the questions are no less important. Because the shiny piles of cash and drug bags whose photos you can find on the DEA web site are not the only reality of drug prohibition, nor its most important aspect. The bigger reality is that of countless drug transactions, almost entirely hidden from view, about as many of them today as there were yesterday before Project Deliverance delivered its thin slice of the drug trade, barely scratching the surface.
* Nitpickers and drug war defenders may point out that demand for cocaine has also dropped since 1980, and that the price drop could be explained that way. No dice -- frequent, "hardcore" cocaine and other drug use remained roughly constant despite a drop in the number of "casual" users, and it's the frequent users who account for the vast majority of the consumption.