by Bernd Debusmann, Jr.

Mexican drug trafficking organizations make billions each year smuggling drugs into the United States, profiting enormously from the prohibitionist drug policies of the US government. Since Mexican president Felipe Calderon took office in December 2006 and called the armed forces into the fight against the so-called cartels, prohibition-related violence has killed nearly 25,000 people (the Mexican attorney general put the death toll at 24,826 on earlier this month), with a death toll of nearly 8,000 in 2009 and over 6,000 so far in 2010. The increasing militarization of the drug war and the arrest of dozens of high-profile drug traffickers have failed to stem the flow of drugs -- or the violence -- whatsoever. The Merida initiative, which provides $1.4 billion over three years for the US to assist the Mexican government with training, equipment and intelligence, has so far failed to make a difference. Here are a few of the latest developments in Mexico's drug war: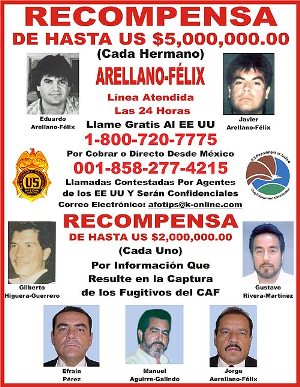 Friday, July 23
In San Diego,
Federal authorities announced criminal charges
against 43 members of the Tijuana-based Arellano-Felix Organization. 31 of the 43 men are in custody, 27 of them having been arrested in the United States. Among the arrested men was Jesus Quinones Marques, the director of international liaison for the Baja California attorney general's office. He is accused of attempting to plant information about murders in local newspapers in an attempt to blame rival gangs.
Saturday, July 24
In Ciudad Juarez,
the murder rate passed 6,000
since January 1st, 2008. As of Saturday, there had been 235 murders in July, and 1,645 so far in 2010. In 2009, there were 2,754 and 1,623 in 2008. On Saturday,
10 people were killed
in several incidents in the city. Four of the dead were killed when gunmen attacked a barbershop, and another three were killed in an attack on a house.
Sunday, July 25
Mexicans officials now claim that
gunmen who committed a massacre last week in Torreon were let out of the prison
at night to carry out drug-related killings. The prisoners are thought to be involved in at least three mass shootings in Torreon this year, killing a total of 35 people. Ballistics testing has also indicated that the weapons were those of prison guards, who lent them to the hit men.
In Nuevo Leon,
at least 51 bodies were discovered
by authorities after a three-day excavation of a mass grave. The grave site spanned a 7-acre area, and most of the dead seem to be men between 20 and 50, many of them tattooed. Similar mass graves have been found in Tamaulipas, Guerrero and Quintana Roo in recent months.
Monday, July 26
In Guerrero,
six men were found dead
inside a car near the town of Chilpancingo. A sign reading, "This will happen to all rapists, extortionists and kidnappers. Attentively, the New Cartel of the Sierra," was left with the bodies. Authorities are now investigating this previously unheard of organization. The car was reportedly taken from its owner after he was stopped and hijacked on a road.
In Sinaloa,
two men were ambushed and killed
by gunmen in Culiacan. The men -- Jose Antonio and Luis Alberto Vega Heras -- were the son and nephew of a known high-ranking member of the Sinaloa Cartel, known as El Gaucho. Additionally, two other men were killed in the city. Killings were also reported in Morelos, Jalisco, and Chihuahua, including at least five in Ciudad Juarez.
In the Laguna region of Durango and Coahuila,
four journalists went missing
after being kidnapped by an unknown group. Two were cameramen from Televisa, one was a reporter for Multimedios television, and one a reporter for El Vespertino. Three were kidnapped Monday at around noon and the fourth on Monday night.
Tuesday, July 27
In Durango,
eight severed heads were found
left in pairs along a highway. In Puebla, three federal agents were killed by gunmen during a firefight. A relative of the Governor-Elect was assassinated in Parral, Chihuaha. In Tamaulipas, the army claimed to have captured nine Guatemalan citizens during operations against drug gangs.
Wednesday, July 28
In Ciudad Juarez,
two severed heads were discovered
in coolers with the bodies left nearby. Along with the bodies were left notes which read "I'm a kidnapper and extortionist. I'm an Azteca" and "I do carjackings and work for La Linea and the Aztecas." The Aztecas are a street gang affiliated with the Juarez Cartel, and La Linea is the enforcement wing of the Juarez Cartel.
Total Body Count for the Week: 236
Total Body Count for the Year: 6,671
Read the previous Mexico Drug War Update here.