A national Angus-Reid poll released Wednesday has found majority support for legalizing marijuana, with 52% of respondents saying they wanted to free the weed. That figure includes 59% of independents and 57% of Democrats, but only 38% of Republicans.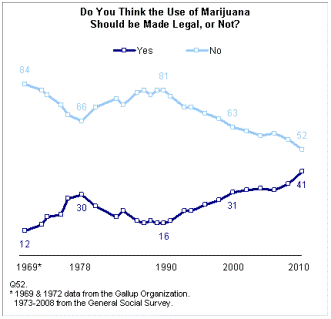 The 52% figure is almost identical to a
December Angus-Reid poll
that found support at 53%. The difference is within the statistical margin of error. But the Angus-Reid polling finds higher support than
most recent polls
, which show support nationwide for legalization somewhere in the forties.
Support for legalizing any other drugs was dramatically lower, with only 10% supporting legalizing Ecstasy, and only single-digit support for legalizing heroin, cocaine, or methamphetamine. The high levels of opposition to drug legalization cut across party lines.
The poll found that while a large majority (64%) believe that "America has a serious drug abuse problem," an equally large majority (65%) believe the war on drugs is a failure. Only 8% said the drug war was working.
The poll also surveyed attitudes toward Mexico and things Mexican. Some 78% respondents had favorable views of Mexican food, and 59% held favorable views of the Mexican people. But only 34% had a favorable view of Mexican immigrants (without distinguishing between legal and illegal) and only 7% had a favorable view of the Mexican government. The poll found that people who had actually been to Mexico tended to have more favorable view of things Mexican.
Nearly half (49%) of respondents believe Mexico deserves most of the blame for being a major drug supplier to the US, while 34% thought the US bore more blame. A majority (59%) of Republicans blamed Mexico, while only 49% of independents and 45% of Democrats did. Regionally, majorities of people in the West (54%) and the South (52%) blamed Mexico, while only 46% in the Midwest and 38% in the Northeast blamed Mexico.