Representatives of the US and Mexican governments meeting at the US-Mexico Bi-national Drug Demand Reduction Policy Meeting in Washington, DC, this week took pains to make clear that neither government is prepared to consider drug legalization. Although legalization wasn't on the meeting's agenda, both Gil Kerlikowske, head of the Office of National Drug Control Policy (ONDCP -- the drug czar's office), and Mexican Health Secretary Jose Angel Cordova Villalobos felt impelled to denounce it.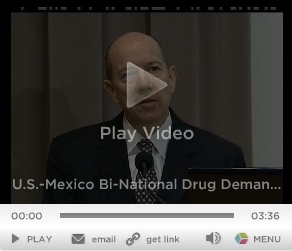 "Legalization isn't a subject under discussion under the Obama administration under any circumstances," said Kerlikowske. Such proposals do not hold up "under the thinnest veil of scrutiny," he said. "The reasons for this are multiple: There is no evidence that legalization would reduce the violence or benefit the economy."
"In Mexico," said Villalobos, "and I want to emphasize this in a firm manner, there is a clear consensus to maintain the criminalization of the cultivation, transportation, possession, commerce, or use of substances identified as dangerous in the international conventions. We are convinced that the legalization of the use of drugs is not only dangerous and distant, but unviable in practical terms. Drugs aren't dangerous because they're illegal, they're illegal because they're dangerous," he added, stealing a hoary trope that is a favorite of UN Office on Drugs and Crime head Antonio Maria Costa.
But the consensus of which Villalobos spoke is badly tattered. The rejection of drug legalization comes amidst a rising clamor for a rethink of prohibitionist drug policies. The calls for change are growing increasingly loud south of the border, where Mexican President Felipe Calderon's militarization of the drug war has led to growing public dismay with its bloody death toll, accusations of human rights abuses by the military, and the campaign's inability to have an noticeable impact on the so-called drug cartels.
On Monday, Calderon's predecessor, Vicente Fox, once again called for debating legalization. "We need to end the war," he said. "It's time to debate legalizing drugs," he said, adding, "Then maybe we can separate violence from what is a health problem."
Similarly, at a conference in Mexico City this week, academics, attorneys, and activists joined former Colombian President Cesar Gaviria in calling for drug legalization. (See related story here.)
The officials also took some flak from north of the border. "The only solution to the current crisis is to tax and regulate marijuana," said Aaron Houston, director of government relations for the Marijuana Policy Project. "Once again, Mexican and US officials are ignoring the fact that the cartels get 70% of their profits from marijuana. It's time to face the reality that the US's marijuana prohibition is fueling a bloodbath in Mexico and the United States."
Congress has approved a three-year $1.4 billion anti-drug aid package for Mexico and Central America, and this year the Obama administration is seeking an additional $310 million in anti-drug aid for Mexico.
"It is illogical, at best, to continue throwing money at this failed policy," Houston said. "The government will never eliminate the demand for marijuana, but it can put an end to the monopoly drug cartels currently hold on America's largest cash crop. Lifting marijuana prohibition would take away the cartels' largest source of income and the main reason for the horrifically brutal violence perpetrated by rival drug groups."
But if Washington and Mexico City just whistle loudly enough as they walk past the graveyard, perhaps they can continue to ignore the rising clamor just a while longer.