The nomination of acting DEA administrator Michele Leonhart was passed unanimously out of the Senate Judiciary Committee last Wednesday, but Sen. Herb Kohl (D-WI) said he intended to put a hold on her nomination on the Senate floor because of concerns over access to pain medications by nursing home residents. (Watch the hearing here; go to the 43:20 mark.)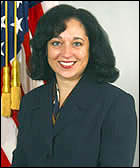 "I have continuing concerns about her nomination," Kohl told the committee. "I'm not going to hold her up here today, but I do intend to hold her nomination up on the Senate floor until we make more progress on our goal of ensuring nursing home residents get timely access to the prescription drug care that they need. The most recent suggestions we received from the Department of Justice require waiting for all 50 states to take action. That's not acceptable. Everyday nursing home patients continue to suffer from agonizing pain, so we need to get a solution to this problem of getting them the prescriptions drugs they need to alleviate this pain when they need it, which is not happening today."
Sen. Sheldon Whitehouse (D-RI) also used the Judiciary Committee executive session to criticize the DEA. "DEA has been a real impediment to providing needed comfort and relief to seniors in nursing homes and far too bureaucratic," he said. "The agency has also been a real impediment to the expansion of e-prescribing -- only under real pressure have they tried to accommodate our very important concerns about developing the health infrastructure. I look forward to stronger signals from the DEA that they will take these concerns seriously."
"I suspect these comments will be heard loud and clear," said committee chair Sen. Patrick Leahy (D-VT), before calling a vote on Leonhart's nomination.
Leonhart is strongly opposed by the drug reform and medical marijuana communities, which had urged senators to ask her tough questions about DEA raids on medical marijuana providers, her refusal to approve a Massachusetts researcher's request for permission to grow his own marijuana, and other grounds. None of the senators actually did ask about those issues during her confirmation hearings last month, although the senior pain relief issue was also aired then.