Long-time drug reform advocate Jodi James has won the Democratic primary for Florida House District 31, in Brevard County on the Central Florida Atlantic Coast. She will now face Republican incumbent John Tobia (R-Melbourne) in the November general election.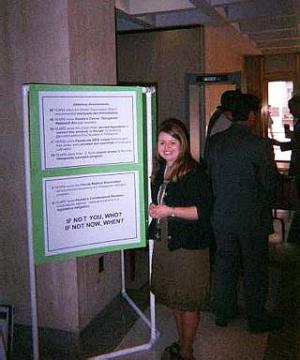 James also won the nomination in 2002, only to be defeated in the general election.
According to
official figures
from the Florida Secretary of State's office, James pulled down 44% of the vote in a three-way race. Her two opponents split the remainder, coming in with 28% each.
As the
South Florida Gay News
noted in bemoaning the loss of openly gay, fiscally conservative candidate Joe Pishgar in the race,"But Pishgar was not the only unique candidate in that race. Jodi James handily took the Primary as the NRA-endorsed daughter of a Deacon who wishes to relax marijuana laws and do away with FCAT testing in schools."
James has been active in drug reform politics since moving to the Sunshine State in 1995. She is a member of the
Drug Policy Forum of Florida
and served as executive director of the
Florida Cannabis Action Network
. She has also been active in Democratic Party politics at the state level.
On her campaign web site, James staked out a progressive position on criminal justice issues, saying: "Jodi James believes in a criminal justice system that focuses on restoration for the victim first. She supports everyone having equal access to the courts. Justice can only be served if everyone is equal in the eyes of the law. Jodi supports restoration of civil rights upon the completion of sentences and alternatives to incarceration when public safety can reasonably be assured."
In addition, in her "issues at a glance" section, she lists herself as supporting "smart on crime practices that bring justice to the victim" and "sensible drug policies that reduce crime." A link next to that item opens up the web site of
Law Enforcement Against Prohibition
.
With her primary victory, Jodi James has taken another step on drug reform's long march through the institutions of power. Let's hope there are many more reformers following in her footsteps.
(This article was published by StoptheDrugWar.org's lobbying arm, the Drug Reform Coordination Network, which also shares the cost of maintaining this web site. DRCNet Foundation takes no positions on candidates for public office, in compliance with section 501(c)(3) of the Internal Revenue Code, and does not pay for reporting that could be interpreted or misinterpreted as doing so.)