A Texas DA plays funny with the drug money, so does a Baltimore narc, and cops in Alabama, Georgia, and Oklahoma join the hall of shame. Let's get to it: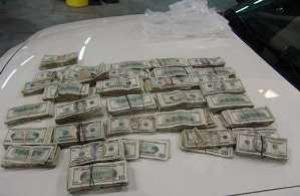 In East Brewton, Alabama, a
former East Brewton police officer was arrested August 17
for helping his brother burglarize a pharmacy and steal prescription drugs. Former East Brewton Police Lt. Matthew Kirk, 36, was indicted on two counts of burglary, third degree; one count of theft of property, second degree; and one count of an ethics violation. Kirk went down after his brother got popped selling stolen Xanax in Florida and ratted him out. When the brother's hotel room was searched, police found Xanax, oxycodone, methadone, morphine, and hydrocodone, according to previous reports. Kirk is currently being held at the Escambia County Detention Center in Brewton on a $100,000 bond.
In Alice, Texas, the
former Jim Wells County district attorney was indicted August 18
for illegally spending more than $200,000 in asset forfeiture funds on himself and three others in his office. Former DA Joe Frank Garza is charged with first-degree felony misapplication of fiduciary property. While the federal indictment uses the $200,000 figure, an audit by Garza's successor found that the former DA had paid $1.2 million in seized funds to his three staff members and $81,000 to himself between 2002 and 2008. The audit found money transferred to employees for car allowances, stipends, reimbursements, advances, audits, travel and contract labor. Under Texas law, DAs may use asset forfeiture funds to supplement staff salaries, but only with the permission of county commissioners. Garza never sought that approval. He was voted out of office in 2008.
In Atlanta, a
Clayton County police officer was indicted August 18
on charges he protected drug deals and stole money and guns from drivers during traffic stops. Clayton County Police Officer Jonathan Callahan, 27, faces nine federal charges, including three counts of aiding and abetting the distribution of more than 500 grams of cocaine, two counts of theft for stealing a firearm from a motorist and money from another, and possession of a stolen firearm.
In Baltimore,
a former Baltimore narcotics detective was sentenced August 18
to 20 months in federal prison for stealing money that was supposed to be used to pay snitches and stealing property found during drug raids. Former narc Mark Lunsford admitted pocketing $10,000 that he fraudulently claimed had been paid to an informant. He also admitted feeding information about a suspect to that same informant that allowed for a drug raid to take place, then claimed the informant had given him the information and asked for a 20% bonus for the informant, which the two then split. He also admitted to filing false reports and affidavits and stealing several items of expensive jewelry.
In Tulsa, Oklahoma, a
Tulsa Police officer who admitted committing crimes was fired August 19
after a Tulsa Police internal investigation revealed he had 'fessed up to the FBI during its investigation of the Tulsa corruption scandal that just keeps on giving. Officer Eric Hill was fired after making admissions during a June 7 interview with the FBI and federal prosecutors. He told the feds he had "replaced" drugs that officers failed to find at drug raids with dope that he or other officers brought to the scene. He also admitted receiving $500 stolen during a drug investigation.