(This article includes minor updates from the original version published 8/19/10.)

Andre Lagomarsino, the attorney representing the estate of Trevon Cole and his fiancé, Sequoia Pearce, said last Thursday he is considering a RICO (Racketeer Influenced and Corrupt Organizations Act) lawsuit against the Las Vegas Police Metropolitan Department in the shooting death of Cole in a June drug raid at the apartment shared by Cole and Pearce. In addition to a possible RICO claim, the lawsuit would assert wrongful death, assault and battery, and intentional infliction of emotional distress. It would also assert civil rights violations.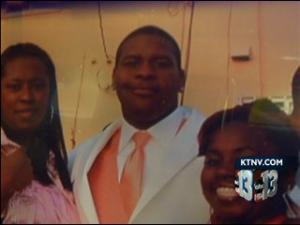 "We are considering a RICO claim," Lagomarsino told the Chronicle. "The claim would say there is a pattern of criminal conduct by this organization. A similar claim was brought against the LAPD. It only takes two events to constitute a pattern under RICO," he said.
There is already one other questionable police shooting that could be the second event. Last month,
Las Vegas police shot and killed Erik Scott, 39, outside a Costco store in Summerlin
. There have been five officer-involved shootings in the city so far this summer and 17 this year, though Cole and Scott were the only fatalities among them.
Though best known for its criminal provisions targeting certain criminal enterprises with asset forfeiture and up to 20-year sentences per racketeering count, the RICO statute also has a
provision allowing for civil lawsuits
by plaintiffs claiming to have been harmed by those enterprises. Successful plaintiffs can collect
treble damages
.
Cole was fatally wounded by Detective Brian Yant as he and other officers executed a search warrant alleging that Cole had sold 1.8 ounces of marijuana to undercover officers in three buys over a series of week. Cole was unarmed. Yant said he shot after Cole made "a furtive movement," but Pearce, who was present during the raid, said Cole was on his knees with his hands raised and complying with commands when he was shot.
Yant has been involved in two other questionable shootings, one of them fatal. In that incident, Yant said the victim was threatening him with a gun, but the gun was found 35 feet away from the victim's body.
Yant also misidentified Cole as another Trevon Cole from Houston, Texas, despite the two men having different dates of birth, middle initials, ages, and appearances. He also mischaracterized the record of the Houston Trevon Cole, portraying him in the search warrant affidavit as a major drug dealer when his only arrests were marijuana possession misdemeanors. (See more detailed coverage of the raid and its aftermath
here
.)
When there is a police-involved fatal shooting in Las Vegas, it goes before a coroner's inquest to determine whether the officer involved was criminally negligent. That happened on Friday and Saturday, with the coroner's jury coming back with
a verdict of "justifiable"
on the shooting. The finding was not unanticipated, especially given the history of coroner's inquests there (only one police officer has been found criminally negligent in about 200 inquests since 1976, and that verdict was later overturned) and the one-sided nature of the inquest process (only the district attorney can present evidence and ask questions), it is considered unlikely that Yant will be found criminally negligent.
"I would guess they will find it justified, but I'm hopeful they will look at the fact that [Cole] had nothing in his hands," Lagomarsino said the day before the inquest began.
While Lagomarsino also cited Yant's history of shootings "under suspicious circumstances," he pointed a finger at the police department too. "This is cleared at higher levels," he said. "It is the policy and procedure of the Metro police to conduct these raids the way they do."
The Las Vegas attorney told the Chronicle last week that once the inquest was over he would file a lawsuit "within two or three weeks." He told
local media
Monday the lawsuit will now move forward, although he did not outline its precise shape.