A Nevada marijuana legalization initiative aimed at the 2012 ballot is on life-support after its primary funder, the Marijuana Policy Project (MPP), pulled its financial backing from the effort, both MPP and David Schwartz, head of its state affiliate, Nevadans for Sensible Marijuana Laws, told the Chronicle this week.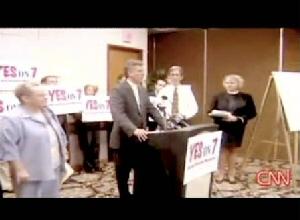 Under the proposed initiative, people 21 and over could possess up to an ounce of marijuana, as well as pot paraphernalia, but they could not grow their own. Instead, consumers would purchase it from one of 120 authorized retail outlets, who would in turn purchase their supplies from one of 50 authorized wholesale growers. The proposal includes a $50 an ounce excise tax at the wholesale level, and sales tax would apply on retail transactions.
"It's no secret that ballot initiatives are an expensive proposition," said MPP spokesman Mike Meno. "We've had to cut back in a few places, and Nevada is one of them."
"The initiative is definitely in jeopardy," said Schwartz, "It wasn't about whether we could win, but it came down to a lack of funding."
Legalization initiatives in 2002 and 2006 lost with 39% and 44% of the vote, respectively, and just two weeks ago, the current initiative was
polled at 42%
. Should the initiative find a way to move forward, proponents will have their work cut out trying to shift that percentage between now and November 2012.
MPP had backed the two previous legalization initiatives and signature-gathering campaigns with millions of dollars in support, largely to pay petitioners. Without paid signature-gatherers, proponents of the ongoing effort will have a very difficult time getting the 97,000 valid signatures they need to make the November 2012 ballot.
Nevadans for Sensible Marijuana Laws is closing up shop, but the fight will continue, said Schwartz. "I'm in the process of starting up a new organization, Sensible Nevada, and we will see where to go from here."