Thanks to the on-the-ground efforts of local harm reductionists and the funding largesse of the Drug Policy Alliance, San Francisco is now the home of only the second drug user union in the United States. The nascent effort is just getting off the ground, but plans to follow in the footsteps of Canada's Vancouver Area Network of Drug Users (VANDU) and the New York City VOCAL drug user union affiliated with the NYC Aids Housing Network.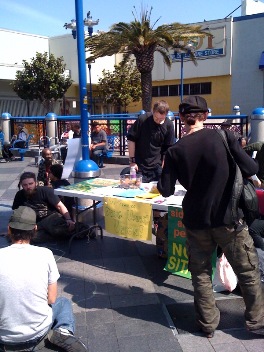 While self-identified drug user unions are rare in the US, they have a history dating back to the Dutch "junkiebund" of the 1970s. The movement is currently spreading internationally, with affiliates of the
International Network of People Who Use Drugs
(INPUD) operating in Europe, North America, South America, and Asia. And while medical marijuana patients did not refer to themselves as drug users, they have done similar organizing based on their use of the weed.
"We gave a $35,000 grant to the Harm Reduction Therapy Center to organize drug users in San Francisco, said Laura Thomas, DPA California state deputy director. "It is an annual grant, and future funding depends on HRTC re-applying for the funds. We have funded VOCAL in New York for several years."
DPA sees drug user groups as a key component in efforts to reduce the harms of both drug use and prohibitionist drug policies, said Thomas. "We hope that drug users in San Francisco will have a voice in policy decisions that affect them," she said. "We hope that they will become an active and organized part of efforts to reduce the harm related to both drugs and the war on drugs in San Francisco. The group is still in the process of forming and determining what their priority issues are, so I can't speak for what they are going to be working on."
"While we haven't quite chosen our main campaign, we've been talking about what we would ideally like San Francisco to look like, about having a safe place to inject, and about having a safe place to consume other drugs, too," said Alexandra Goldman, the organizer for the group. "Within a couple of months, we will choose our first official campaign," she vowed.
"We are also interested in working to decrease the stigma, both within and outside the drug using community," Goldman added. "We're trying to work with health care providers to make it a more positive experience. Our people tend to wait until they are very seriously ill because they are not treated very well. In our meetings, I'm hearing about how people don't get the prescribed pain medications they need because the doctors don't like them."
The group has already been active, joining in protests against the city's proposed ordinance barring people from sitting or lying on public sidewalks. Homeless people in neighborhoods like Haight-Asbury have roused the ire of business owners with their presence, but activists say they have no place to go and should not be criminalized.
The SF Drug User Union participation in the sit/lie protests makes sense given that many of its members are homeless and that its meetings are generally being held in homeless drop-in centers in the Tenderloin and the Mission. The group boasts about 25 members, with an emerging core group of 10 or 12, but is looking to expand by working with lower income communities and people involved in local harm reduction networks.
"We plan to be active consumers, giving our opinions and our voice on issues and policies that affect us," said Isaac Jackson, the other paid staffer for the union. "People are already asking us for our expertise."
So who can join the union? Anyone who identifies as a drug user, past or present, organizers said. Defining members in that manner allows people to get active without necessarily outing themselves as current users.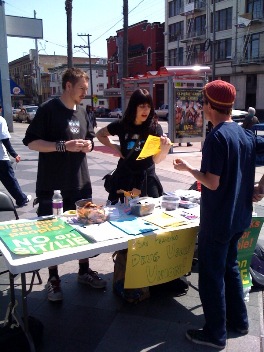 "There is no piss test to get into this group," said Jackson. "We have heroin users, speed users, people who drink, pot smokers. Some people think pot's not a big issue, but anyone who wants to work with us, we say 'right on.' We support the legalization campaign and we support medical marijuana. That's a success story, and so is needle exchange, and we'll be trying to learn from those."
The only rule at meetings is no drug dealing, said Jackson. "We don't want people to deal drugs at the meeting or endanger other people in the group by that kind of activity, but if people are carrying, so what? Some people have showed up tweaking. We don't want to say they can't come because they're too high. We want people to feel welcome whatever their level of sobriety."
Forming a drug user union in San Francisco has been an idea that's been batted around for at least a couple of years, but it took some cold, hard cash to make it happen. "There were some attempts to organize drug users in the past, and I was involved in those, but they didn't stick because people had other jobs," said Goldman. "But once that Drug Policy Alliance grant came in, I got hired in November and we had our first meetings in February."
"I worked at a small health agency working with homeless people with substance use here in the Tenderloin, and was also working with some people with the Youth Homeless Alliance in the Haight," said Jackson. "A lot of people said we ought to do something like VANDU. We had a conference here a couple of years ago to try to jump-start a safe injection site, but that was mostly health care providers, not drug users."
San Francisco has one of the highest rates of drug use per capita in the country, Jackson noted. "Since there is so much civil disobedience going on already -- the laws are wrong, when you have thousands of people doing something for a long period of time, it's like passive civil disobedience -- there was an opportunity there to give drug users a voice in a more organized way. We're consumers of all these services -- treatment, law enforcement, the whole drug industrial complex -- we're consumers and have no voice. The time was right for it to start here."
San Francisco organizers took advantage of last fall's DPA conference to learn from existing drug user groups on the continent. "I met with Ann Livingston from VANDU and I got in touch with some of the folks from VOCAL," Goldman said. "They work on stuff around syringe exchange, trying to pass statewide ordinances to keep police from hassling people with needles, things like that. And, of course, they're subject to the same ridiculous drug laws we are."
"Drug user groups such as VOCAL in New York, VANDU in Vancouver, and hopefully this group in San Francisco play an important role in drug policy change and ending the war on drugs," Thomas said. "Drug users are usually the people most directly affected by bad drug policies, and the least likely to have a voice in debates. Drug users as active participants in the political process also helps reduce the stigma that is attached to drug use and makes people reconsider their prejudices about what they think 'drug users' are like. The drug policy reform conversation can only benefit from the active participation of drug user groups."
Separate drug user union meetings are taking place every three weeks in the Tenderloin and Mission districts. For more information about joining the union, send an email to [email protected].