by Bernd Debusmann, Jr.
Mexican drug trafficking organizations make billions each year smuggling drugs into the United States, profiting enormously from the prohibitionist drug policies of the US government. Since Mexican president Felipe Calderon took office in December 2006 and called the armed forces into the fight against the so-called cartels, prohibition-related violence has killed over 19,000 people, with a death toll of nearly 8,000 in 2009 and over 3,000 so far in 2010. The increasing militarization of the drug war and the arrest of several high-profile drug traffickers have failed to stem the flow of drugs -- or the violence -- whatsoever. The Merida initiative, which provides $1.4 billion over three years for the US to assist the Mexican government with training, equipment and intelligence, has so far failed to make a difference. Here are a few of the latest developments in Mexico's drug war: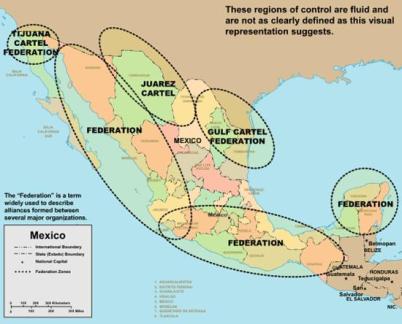 Thursday, April 15
In Acapulco, six people were killed during a shootout between federal police and drug traffickers suspected to be tied to Edgar Valdez Villareal. At least three of the dead were bystanders caught in the crossfire, among them a mother and her 8-year old child. One 26-year old individual was taken into custody.
Sunday, April 18
In Tepic, Nayarit, three men were killed at a funeral home. The men were paying respects to a suspected retail-level drug dealer that had been executed on Friday. In the previous few days, three other people thought to be involved in the Tepic drug trade had been gunned down. The killings are thought to be a power-struggle following the capture of several local bosses.
Monday, April 19
In Tamaulipas, a shootout occurred between the army and suspected drug traffickers. At least three gunmen were killed and at least four soldiers were wounded. Seventeen individuals were taken into custody. The battles began when gunmen attacked soldiers on a recon patrol in the city of Ciudad Aleman. The three gunmen were killed in the return fire. Thirty-two rifles were seized, as well as 7,000 rounds of ammunition and six vehicles.
In the city of Chihuahua, a former TV anchor was gunned down as she bought food from a street vendor. An unidentified young man that accompanied her was also killed. Isabella Cordova had previously been the main anchor on the Cada Dia television program, and more recently worked as the PR director for the Mexico City Chamber of Commerce. The two were attacked by gunmen wielding automatic weapons.
In Culiacan, Sinaloa, an inmate in prison for federal crimes was shot dead in his cell by at least two gunmen. In Guamuchil, Sinaloa, two people were murdered, including a female school teacher. Two people were killed in Mazatlan, and a police commander was killed in Michoacán. In Tijuana, one man was shot dead by customs officers, and in Jalisco, a police official was killed when assailants raked his home with gunfire.
Wednesday, April 21
In Cuernavaca, two men were found dead outside a bar. A note left at the scene claimed that 25 members of a group allied to Hector Beltran-Leyva are currently being held and interrogated in the city of Acapulco, after which they are to be executed. Cuernavaca has seen a rise in drug-related violence as US-born drug trafficker Edgar Valdez Villareal battles Hector Beltran-Leyva for control of the Beltran-Leyva organization, which was left without a leader following the December killing of Arturo Beltran-Leyva by Mexican naval commandos.
In Nuevo Leon, four police officers were wounded after the checkpoint they were manning was attacked by gunmen. In Leon, Guanajuato, two families were attacked by gunmen, leaving four dead and another wounded. In Michoacán, at least three people were killed, including a gunman who died during a clash with the army. At least four people were killed in Jalisco, three in Sinaloa, two in Tijuana. A union leader was gunned down in Guerrero, and two people were killed and another wounded after an incident in Acapulco.
In Monterrey, gunmen kidnapped six people from two hotels. Initial reports indicate that between 20 and 30 gunmen were led by a handcuffed captive to the fifth floor of the Holiday Inn, where they went room-to-room looking for specific individuals. Three male guests and a receptionist were taken, and another receptionist was taken from the Hotel Mision across the street. A private security guard who was posted outside the Holiday Inn is also reported missing, but it is unclear if he was kidnapped as well.
In the suburbs of Mexico City, gunmen clashed with soldiers, leaving two gunmen dead and another wounded. The incident came after soldiers launched a raid to capture Gerardo Alvarez Vasquez, a presumed member of the Beltran-Leyva Cartel. Vasquez, who was captured, is thought to be partly responsible for the wave of violence which has struck the states of Guerrero and Morelos recently.
Total Body Count for the last two weeks: 420
Total Body Count for 2010: 3,141
Total Body Count for 2009: 7,724
Total Body Count since Calderon took office: 19,452
Read the last Mexico Drug War Update here.