Three months after New Hampshire Gov. John Lynch (D) vetoed a medical marijuana bill, bill supporters attempting to override the veto came up one vote short in the state Senate Wednesday. A two-thirds majority was required to override. The override effort had successfully passed the House earlier in the day.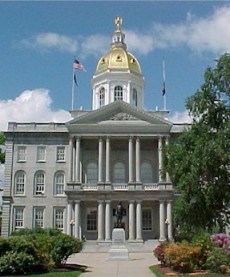 The House voted to override the veto by a vote of 240-115, or 67.7% of the vote. But supporters failed to pick up a single vote in the Senate, and that made all the difference. The Senate vote both last summer and this week was 14-10 to override. It would have taken 16 votes to reach a two-thirds majority.
The bill, HB 648, would have established three nonprofit dispensaries to distribute up to two ounces of marijuana every 10 days to patients whose use had been approved by a doctor. Patients could be approved for chronic or terminal conditions that included cachexia, or wasting disorder; chronic pain; or nausea or muscle spasms. They would have had to register with the state to obtain an ID card.
In his veto message earlier this year, Gov. Lynch cited concerns about cultivation and distribution, as well as the opposition of law enforcement. Lawmakers had attempted to address those concerns in conference committee, crafting a tightly-drafted bill, but Lynch was unmoved.
"It's up to 16 of us in this chamber to look at those who are suffering to say, 'I understand and I will help','' said Sen. Peggy Gilmour (D-Hollis). But every senator who voted against the measure earlier this year voted against the override Wednesday.
Pushing for the bill was the New Hampshire Coalition for Common Sense, backed by the Marijuana Policy Project (MPP). "You never give up hope so I'm disappointed," coalition spokesman Matt Simon told the Nashua Telegraph. "Now I'm not looking forward to making those difficult calls to people depending on the legislature to relieve their unrelenting pain."
In fact, Simon and other medical marijuana supporters are looking to inflict a little pain on legislators who voted against them. In a message to supporters after the override failed, MPP pointedly noted that two senators who had voted against the override, Betsi DeVries and Ted Gatsas, are up for reelection in Manchester next week.