Hit hard by a double whammy of drought and economic slowdown, California's Central Valley has become a hotbed of methamphetamine and other injection drug use. Now, the dusty town of Modesto, in Stanislaus County, has become a focal point in the statewide and nationwide battle over how to help injection drug users. Last week, two volunteers at an unsanctioned needle exchange were in court in Modesto hoping to reach a plea bargain after they were arrested in April for handing out syringes. Now known as the Mono Park 2, they're looking at serious jail time for trying to save lives.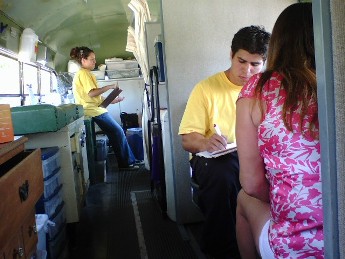 The deal was supposed to be that Stanislaus County District Attorney Birgit Fladager would drop drug paraphernalia possession charges against exchange volunteers Kristy Tribuzio and Brian Robinson if they agreed to quit handing out needles until there was a legal program in place. But that didn't happen. Instead, at the last minute, the DA rejected the plea deal. Another hearing is set for November 9. If the DA and defense attorneys cannot reach agreement then, the case will go to trial.
The case has its genesis in longstanding efforts to win official approval for a needle exchange in Modesto. California law allows for needle exchanges, but only as a local option. The county board of supervisors must declare a health emergency in order for needle exchanges to operate legally.
In a 2008 report, Containing the Emerging Threat of Hepatitis through a Syringe Exchange Program (begins on page 22), the Stanislaus County Civil Grand Jury recommended the county authorize syringe exchanges and implement them either directly or through a community based contractor. The effort also had the support of county public health officials, including Public Health Department, the Advisory Board for Substance Abuse Programs, the Local AIDS Advisory Implementation Group, and the Hepatitis C Task Force, who cited a high incidence of Hepatitis C. They cited research indicating that needle exchanges reduced the spread of blood-borne diseases, brought injection drug users into contact with public health workers, and did not result in increases in drug use.
But despite the input from the public health community and the grand jury report, the Stanislaus County Board of Supervisors a year ago voted unanimously against allowing needle exchanges. In so doing, they heeded their own prejudices and those of law enforcement over science-based policies and the advice of the public health community.
County Sheriff Adam Christianson and DA Fladager both spoke out against needle exchanges, saying they would enable drug users to continue their addiction. Fladager said needle exchanges sent the wrong message to young people and encouraged them to think the county would take care of them if they become addicted.
"All of the challenges we are faced with in Stanislaus County, the gangs, methamphetamine, crimes, all have elements of drug addiction," Christianson said. "A syringe exchange program enables people to continue with their drug addiction."
Noting that Hep C was not a big issue for the county because most patients are covered by insurance, Supervisor Bill O'Brien also objected on bizarre moral grounds. "Then there's the human issue. Giving a drug user a clean needle is not the best thing for him. Illegal drug use has a risk, and making it safer promotes it," he said.
Supervisor Jim DeMartini thanked the grand jury for the report, but then dismissively added, "Like many well-intentioned programs that don't work out, this will never work out and deliver the benefits promised."
Too bad the sheriff, the DA, and the county board don't agree with the nation's drug czar. "Needle exchange programs have been proven to reduce the transmission of blood-borne diseases," Gil Kerlikowske told Congress during confirmation hearings earlier this year. "A number of studies conducted in the US have shown needle exchange programs do not increase drug use. I understand that research has shown these programs, when implemented in the context of a comprehensive program that offers other services such as referral to counseling, healthcare, drug treatment, HIV/AIDS prevention, counseling and testing, are effective at connecting addicted users to drug treatment."
Given the knowledge base about the effectiveness of exchanges and the evident human need for them in Modesto, needle exchange advocates were not content to simply roll over and die. Instead, they created an unauthorized needle exchange in the city's Mono Park, also known as needle park by residents because of the used needles littering the ground there. The program was publicized and went along on a low-level basis without a hitch until April, when, after an elaborate undercover sting, police swooped down and arrested the exchange volunteers.
Kristi Tribuzio just happened to be volunteering with the needle exchange the day the bust went down. Now, she's one of the defendants. "There was a direct need for this, and when I found out there was an existing exchange -- I saw a flyer on a telephone pole -- I asked how is this happening?" she said. "I got involved; I was just going out there for the people. An undercover cop came up and did an exchange, and then, a little later eight to 10 undercover officers drove up with a drug dog and arrested us. It was pretty harsh and crazy," she recalled.
"Looking back, Brian and I think it was maybe naive of us to just go out there and do something that was helping people in line with other syringe exchange programs," said Tribuzio. "We didn't understand what the consequences could be."
Now, she and Robinson face up to a year in jail for violating the paraphernalia law. For Tribuzio, there were other consequences, including the loss of her contract position with the Stanislaus County drug and alcohol education and prevention program. "I was laid off two days after I was arrested. Because I was a contract worker, they didn't need a reason to fire me, and no official reason was given. Ironically, my employer supports needle exchange," she said. "Maybe that's why they laid me off instead of firing me for cause. Now, at least, I can get unemployment."
Tribuzio had previously worked as a substitute teacher, but she can't do that now, either. "I'm getting an MA in education, and I have a teaching credential, but my credential is now suspended," she said. "Imagine, a teacher in San Francisco could be doing just what I did, and there would be no problem."
That's because needle exchanges have been authorized by the San Francisco County Board of Supervisors, just as they have in most large California cities. But in more conservative locales, like the Central Valley, the fight is more difficult, and therein lies the problem -- and the solution -- said one prominent harm reductionist.
"What we need is to get legislation authorizing syringe exchanges on a statewide level rather than our current system, which requires that they be authorized by local authorities," said Hilary McQuie, Oakland-based Western director of the Harm Reduction Coalition. "Requiring local authorization means we have to deal with 54 jurisdictions instead of just one, and the politics makes it really difficult in conservative places like Fresno or Modesto. It will be really difficult to get syringe exchange approved in Modesto without a statewide mandate," she said.
Short of that, needle exchange advocates need to carefully lay the groundwork beforehand, she said. In that respect, the Modesto needle exchange perhaps suffered from political naivete. "The effort with the grand jury in Modesto was done in good faith, but the grand jury finding required a response from the Board of Supervisors within three months," she noted. "They hadn't really lined up their support with the Board, and the Board ended up voting against it. That was problematic."
While personally difficult for Tribuzio and Robinson, the battle over needle exchanges in Modesto has moved the issue forward locally and stirred support from around the country and the world. A Mono Park 2 Defense Committee has formed to back them. At last week's hearing, more than a dozen supporters were present in court, and the pair had letters of support from some 35 public health and harm reduction organizations here and abroad.
"We've gotten a ton of support from the harm reduction community," said Tribuzio. "This whole thing has been stressful and overwhelming for us, but they've given us a wealth of training, knowledge, and support, more than we ever expected. We've gotten support from people in other exchanges, and letters of support from around the world. We've also been building alliances with people in the community. Things in the Central Valley are crazy, and we can't turn our heads away in the face of disease. Now, at least, people are paying attention."
While Robinson and Tribuzio wait for their legal problems to be resolved, they continue to work with at-risk communities. "After the bust, we started Off The Streets, and that does everything except for needle exchange," said Tribuzio. "We're doing needs assessments, trying to get our fingers on the pulse of the community, trying to help where we can."
For McQuie, the trials and tribulations of the Mono Park 2 are, sadly, par for the course. "This is how most of the programs got started, doing them illegally, so they're in good company," she said.