In a break with the Bush administration, Justice Department officials called Wednesday for the first time for Congress to pass legislation that would undo the vast disparities in sentences for those convicted of crack and powder cocaine possession offenses. For years, drug reformers, civil rights groups, and even the US Sentencing Commission have called for the disparities to be undone, saying they have had a racially disproportionate impact on poor and minority communities.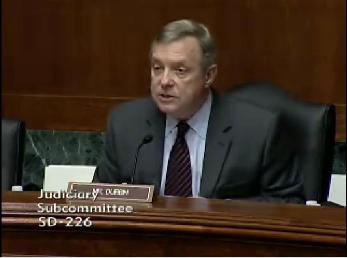 Under federal sentencing laws adopted in the midst of the crack hysteria of the 1980s, it takes 500 grams of powder cocaine to generate a mandatory minimum five-year federal prison sentence, but only five grams of crack to generate the same sentence. Historically, blacks have accounted for more than 80% of all federal crack convictions, with whites accounting for less than 10%.
Competing bills have been introduced to eliminate or reduce the disparity between crack and powder cocaine sentences, but in previous years they have not gotten far. With the administration now behind eliminating the disparity, this year could be different.
Justice Department Criminal Division Chief Lanny Breuer told a Senate Judiciary Committee subcommittee Wednesday that the administration supported bills that would equalize punishments for crack and powder cocaine offenses. The disparity should be "completely eliminated," he said.
"Now is the time for us to reexamine federal cocaine sentencing policy, from the perspective of both fundamental fairness and safety," Breuer told the Judiciary subcommittee on crime and drugs. He added that a Justice Department panel is reviewing a broad range of criminal justice topics, including sentencing reforms.
It's about time, said Sen. Richard Durbin (D-IL), the Senate majority whip, citing the racially disproportionate crack conviction figures. "These racial disparities profoundly undermine trust in our criminal justice system and have a deeply corrosive effect on the relationship between law enforcement and minority communities," Durbin said.
US District Judge Reggie Walton, representing the Judicial Conference, also addressed the committee. The crack/powder cocaine sentencing disparity is "one of the most important issues confronting the criminal justice system today," he said. "No one can appreciate the agony of having to enforce a law that one believes to be fundamentally unfair to individuals who look like me," said the judge, who is black.
Sentencing reform advocacy groups were also on hand for the hearing. Mary Price, vice president and general counsel for Families Against Mandatory Minimums (FAMM) told the subcommittee the sentencing disparity has a discriminatory impact on blacks, including people like FAMM client Eugenia Jennings, now serving a 20-year prison sentence for twice trading small amounts of crack for designer clothes.
"This hearing gives new hope to thousands who have loved ones serving harsh sentences for low-level, nonviolent drug offenses," Price said.
Even former DEA head and enthusiastic drug warrior Asa Hutchinson had little good to say about the crack/powder cocaine sentencing disparity. "When significant numbers of African Americans on the street question the fairness of our criminal justice system, then it becomes more difficult for the officer on the street to do his or her duty under the law," Hutchinson said.
A number of bills have been filed in both the House and the Senate to address the crack/powder cocaine sentencing disparity. Now, the fight will be to ensure that eliminating the disparity means reducing crack sentences, not increasing powder ones.
Click here to view archived video of the hearing.