by Bernd Debusmann Jr.
Mexican drug trafficking organizations make billions each year trafficking illegal drugs into the United States, profiting enormously from the prohibitionist drug policies of the US government. Since Mexican president Felipe Calderon took office in December 2006 and called the armed forces into the fight against the so-called cartels, prohibition-related violence has killed over 12,000 people, with a death toll of nearly 4,000 so far in 2009. The increasing militarization of the drug war and the arrest of several high- profile drug traffickers have failed to stem the flow of drugs -- or the violence -- whatsoever. The Merida initiative, which provides $1.4 billion over three years for the US to assist the Mexican government with training, equipment and intelligence, has so far failed to make a difference. Here are a few of the latest developments in Mexico's drug war: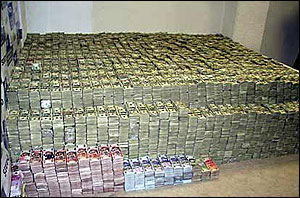 Thursday, July 23:
In Tijuana, 17 teenagers -- most of them accused of being cartel hit men -- escaped from a juvenile detention center near the US border in Baja California after digging a hole through an outer wall and striking a correctional officer with a metal rod.
There have been more than 20 jail breaks in Mexico this year alone. Notably, in May, gunmen dressed as police officers arrived in a convoy and rescued 53 cartel members held in a prison in Zacatecas.
On the American side of the Baja California/California border, Robert Rosas, a US Border Patrol agent, was shot and killed. Five men have been detained by Mexican authorities in relation to the killing, all thought to be people-smugglers or members of drug gangs.
Saturday, July 26/Sunday, July 27:
At least 20 people were killed in Ciudad Juarez and its environs over the weekend in separate incidents. The wave of killings began late Friday night when a man was shot dead by unidentified assailants. Two other men were killed Friday night in separate incidents.
Six men were killed Saturday, while a seventh died from wounds inflicted after an incident in which men dressed as members of the army tried capture him after he attempted to rob a service station. Another five men were shot dead on Sunday. Among the dead from the weekend violence was a woman who had apparently been stoned to death.
In Chihuahua, the capital of the state of Chihuahua, which includes Ciudad Juarez, three adults were killed and a seven-year old girl was wounded when gunmen opened fire on their car.
Ciudad Juarez is the most violent city in Mexico. Unofficial reports indicate that at least 200 people have been killed so far in the month of July, and over 1,000 have been killed since the beginning of 2009, even with the presence of 8,500 military and police personnel.
Also on July 26, the office of Mexico's attorney general released a statement that an alleged cartel assassin, Alfredo Araujo Avila -- known as "El Popeye" -- has been sentenced to 11 years in prison on weapons-related charges. This prosecution is notable because Arujo has been implicated in the high-profile 1993 killing of Cardinal Juan Posadas Ocampo, which caused widespread outrage in Mexico. Ocampo was killed on May 24, 1993, under unclear circumstances. Some claim he was caught in the crossfire between rival drug gangs, while others claim he was killed in a case of mistaken identity. Araujo is the only person implicated in the murder -- which also claimed the lives of the cardinal's driver and five gunmen -- who has been prosecuted.
Monday, July 27
The Associated Press (AP) has reported that Jose Daniel Gonzalez Galeana, a Mexican national and Juarez Cartel lieutenant who was shot dead outside his home in El Paso, was working for US officials as a confidential informant. The AP cites information from two federal and one local official who said that Gonzalez was handing over information on cartel operations to US Immigration and Customs Enforcement (ICE). While police have no official motive, law enforcement is working on the assumption that he was murdered because the cartel discovered his activities. Gonzalez was shot eight times at close range outside his home on May 15th.
Mexico announced a pilot program to have special drug courts handle cases in which drug addicts committed crimes while under the influence of drugs. The focus of these courts is to be on rehabilitation, rather than punitive prison terms. One third of funds seized from drug traffickers are to go towards the establishment of new rehabilitation centers. The program was immediately praised by US drug czar Gil Kerlikowske.
Mexico's attorney general, Eduardo Medina Mora, criticized US measures to stamp out the marijuana trade. "We frequently see insufficient resources and infrastructure to prosecute those who carry out small-scale or fragmented marijuana trafficking in the United States," he said at a joint news conference with US drug czar Gil Kerlikowske in Mexico City. Medina Mora added that the issue would be further discussed next month when Mexican President Felipe Calderon meets with US president Barack Obama.
Tuesday, July 28
Off the coast of San Diego, three teenagers aboard a 22-foot boat were arrested by US Customs and Border Enforcement officers. Hidden underneath the deck was 1,060 pounds of marijuana. The three teenagers, one aged 18 and two aged 19, claimed that they were returning from a fishing trip in Ensenada, Mexico.
Total reported body count for the week: 20
Total reported body count for the year: 3,947