by Bernd Debusmann Jr.
Mexican drug trafficking organizations make billions each year trafficking illegal drugs into the United States, profiting enormously from the prohibitionist drug policies of the US government. Since Mexican president Felipe Calderon took office in December 2006 and called the armed forces into the fight against the so-called cartels, prohibition-related violence has killed over 12,000 people, with a death toll of over 4,000 so far in 2009. The increasing militarization of the drug war and the arrest of several high- profile drug traffickers have failed to stem the flow of drugs -- or the violence -- whatsoever. The Merida initiative, which provides $1.4 billion over three years for the US to assist the Mexican government with training, equipment and intelligence, has so far failed to make a difference. Here are a few of the latest developments in Mexico's drug war: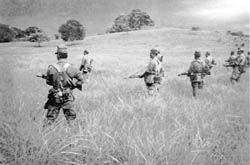 Friday, August 21:
- The mother and brother of the reputed head of the La Familia drug cartel were arrested by Mexican authorities. This came despite explicit threats on television last month by Servando Gomez, the cartel boss, that any action against his family would bring retaliation. Gomez's mother, Maria Teresa Martinez, was released two days after her arrest because of a lack of evidence. The brother, Luis Felipe Gomez Martinez, is still being held.
-43 Mexicans were indicted by federal courts in Chicago and Brooklyn. The indictments, unsealed Thursday , charge them with operating a coast-to-coast distribution network through which drugs and money have flowed for the last 20 years. The three most high profile suspects -- Joaquín Guzmán Loera, Ismael Zambada García and Arturo Beltrán Leyva -- are the current and former leaders of the Sinaloa cartel, although Beltran Leyva now operates his own, independent organization. 35 of the 43 suspects remain at large, while the other eight were arrested during the last week in Chicago and Atlanta.
Saturday, August 22:
-The Mexican government decriminalized small amounts of marijuana, cocaine, heroin and meth. Under the new laws, people are now allowed to have 5 grams of marijuana, 50 mg of heroin, half a gram of cocaine, and 40 mg of meth. Mexican prosecutors believe that the new law will help in the war against drug cartels by allowing federal prosecutors to focus on combating large-scale traffickers and distributors rather than small-time users. This change in policy comes at a time when drug cartels are selling an increasingly large number of drugs domestically. A 2008 government study found that the number of drug addicts in Mexico had almost tripled in the past six years.
-In Ciudad Juarez gunmen killed a Mexican army officer and another man in a bowling alley. Gunmen entered the Bol-Bol bowling alley and gunned down Captain Alejandro Aranda and an unidentified companion late on Friday night. Aranda was an administrator of a dining hall in a Ciudad Juarez military facility. Also, in Tijuana, three police officers were wounded when their patrol cars came under fire from suspected cartel gunmen.
Monday, August 24:
-The Mexican Army announced on Monday that it has captured a leading member of the La Familia drug cartel in the Pacific coast city of Manzanillo. Luis Ricardo Magana, also known by the alias "19 1/2" (traffickers frequently use numerical codenames), is alleged to be responsible for the cartel's shipments of methamphetamine to the United States. He is one of Mexico's most wanted fugitives and is also thought to be involved in the planning of retaliatory attacks on federal police agents. Also on Monday, in the state of Sinaloa, a cooler containing four severed heads was found by the side of rural road. The headless bodies were found some 3 miles away.
-16 people were killed during a 24-hour period in Ciudad Juarez. Among the victims was a police officer who wanted to resign after having previously received unspecified threats. In a separate incident, a group of heavily armed gunmen shot and killed a 15-year-old boy outside his home. The 16 killed now bring the death toll in Ciudad Juarez for the year over 1,100 killed.
Tuesday, August 25:
-Another 29 people were killed in drug-related violence across Mexico during a 24-hour period. Among the victims were a police commander and two of his officers in Nayarit who were killed when the car in which they were traveling was attacked by gunmen wielding automatic weapons. In Gomez Palacio, Durango, two prison guards were found dead, while, in a separate incident, gunmen attacked a couple. The man died while the woman was left in serious condition. In Nogales, a cooler containing a dismembered human body was left at the entrance to a technical university. Additionally, six individuals were killed in Ciudad Juarez, three bodies were found at a ranch in Sonora, four people were murdered in Guerrero, and parts of nine human bodies were found across Sinaloa.
-Recent court documents examined by the Houston Chronicle detail an ultra high-tech communications network employed by a Mexican drug trafficking organization. The federal court documents detail the testimony of Jose Luis Del Toro Estrada, 38, who is alleged to be a cartel communications expert. According to his testimony, his organization uses a string of hand-held radios on a network which stretches from Guatemala to the Mexico-Texas border. His team included an expert who specialized in installing radio towers and antennas, and another who researched new technology.
Total reported body count for the last week: 155
Total reported body count for the year: 4,587
Read last issue's Mexico drug war report here.)