In the last eight days, the decriminalization of drug possession has gone into effect for 150 million Latin Americans. Last Thursday, as part of a broader bill, Mexico (pop. 110 million) decriminalized the possession of small amounts of all drugs through the legislative process. Four days later, the Argentine Supreme Court declared unconstitutional that country's law criminalizing drug possession. While the Argentine case involved marijuana possession, the ruling clears the way for the government to draft a new law decriminalizing all drug possession.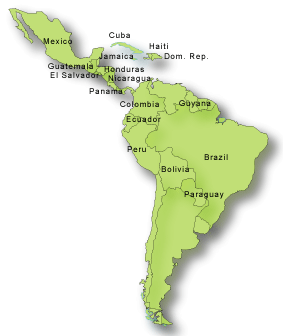 The shift in policies toward drug users in the two countries is a dramatic indication of the seismic shift in drug policy already well underway in Latin America. Colombia's high court declared the law against drug possession unconstitutional in 1994. Brazil has had a version of decriminalization since 2006 -- users cannot be imprisoned, but can be forced into treatment, educational programs, or community service -- and Uruguay now allows judges to determine if someone in possession of drugs intended to use them or sell and to act accordingly. Movement toward decriminalization is also underway in Ecuador.
That reformist zeitgeist is perhaps best encapsulated in the Latin American Commission on Drugs and Democracy, led by former presidents Cesar Gaviria of Colombia, Ernesto Zedillo of Mexico, and Enrique Cardoso of Brazil. In its report earlier this year, Drugs and Democracy: Toward a Paradigm Shift, the commission called for decriminalization of drug use, especially marijuana, and treating drug use as a public health -- not a law enforcement -- issue. A similar commission got underway in Brazil last week.
"Decriminalization permits a distinction between users and drug traffickers," said John Walsh of the Washington Office on Latin America. "This allows governments to focus their efforts in reducing the terrible harms caused by the big criminal networks and the violence related to the illicit traffic, instead of repressing users and small-scale dealers."
"What's happened in Mexico and now Argentina is very consistent with the broader trend in Europe and Latin America in terms of decriminalizing small amounts of drugs and promoting alternatives to incarceration and a public health approach for people struggling with drug addiction," said Ethan Nadelmann, executive director of the Drug Policy Alliance. "The decision in Argentina reminds me of similar rulings in Colombia more than a decade ago and in Germany before that, and, more generally, what's been going on in the Netherlands, Portugal, and Switzerland. In some cases, there is a legal or constitutional notion about personal sovereignty or autonomy, but there is also a recognition of the failures of the drug war approach vis a vis low-level offenders. There is a kind of human rights element that you see popping up in both contexts," Nadelmann said.
But the devil is in the details. Mexico's decriminalization, for example, comes as part of a broader law aimed at "narcomenudeo," or small-scale drug dealing. In addition to decriminalizing drug possession, the law for the first time allows state and local authorities to arrest and prosecute drug offenders. Previously, such powers had been the sole province of federal authorities. The new law also allows police to make undercover drug buys, a power they did not previously possess. (To read the full text of the law in Spanish, go to page 83 of the Official Daily.)
Under the Mexican law, the amounts of various drugs decriminalized are as follows:
opium -- 2 grams
cocaine -- 1/2 gram
heroin -- 1/10 gram
marijuana -- 5 grams
LSD -- 150 micrograms
methamphetamine -- 1/5 gram
ecstasy -- 1/5 gram
For Mexican drug reformers, the law is definitely a mixed bag. The Collective for an Integral Drug Policy, a Mexico City-based reform think-tank, felt compelled to note that while "the law represents certain advances... it could have very negative consequences for the country" because the public health and human rights perspectives are not implicated strongly enough in it.
While the collective applauded the law's distinctions between consumer, addict, and criminal; its rejection of forced drug treatment, its lip service to harm reduction, and its recognition of the traditional, ritual use of some substances, it challenged other aspects of the law. "It focuses on intensifying a military and police strategy that has proven to be a failure," the collective said, alluding to the more than 12,000 people killed in prohibition-related violence since President Felipe Calderon unleashed the military against the cartels in December 2006.
"The law will criminalize a vast group of people who make a living off the small-time dealing of drugs, but who in reality do not consciously form part of organized crime," but who are instead merely trying to make a living, the collective argued. "Imprisoning them will not diminish the supply of drugs on the street, nor will it improve public security, yet it will justify the war on drugs, since the government will be able to boast of the number of people incarcerated with this policy."
"Mexican decriminalization will have no impact whatsoever on the broader issues of drug trafficking and violence," agreed Nadelmann. "From the legal and institutional perspective, this is very, very significant, but in terms of actual impact on the ground in Mexico, that remains to be seen."
The collective also criticized the law's provision allowing police to make drug buys to nab small-time dealers and warned that the small quantities of drugs decriminalized "are not realistic" and will as a consequence lead to "a significant increase in corruption and extortion of consumers by police forces."
University of Texas-El Paso anthropologist Howard Campbell, who has studied the street drug scene across the river in Ciudad Juarez, was more cynical. "It was a good move by the government to make that distinction between users and traffickers, but I'm not sure what the effects of the law will be," he said. "All over Mexico, cops prey on junkies, and one effect of this might be to give low-down junkies a bit of a break from the cops. On the other hand, street-level drug dealing is often controlled by the cops... but if the cops are corrupt and in control, it doesn't really matter what the law says."
Campbell also doubted the new law would have much effect in reducing the prohibition-related violence. "I don't think it will have much initial impact, but still, the overarching importance of this law is symbolic. It shows that governments can revamp their policies, not just keep on working with failed ones," he said.
In Argentina, the situation is less dire and the reform is less ambiguous. On Tuesday, the Argentine Supreme Court, ratifying a series of lower court decisions in recent years, declared that the section of the country's drug law that criminalizes drug possession is unconstitutional. While the ruling referred only to marijuana possession, the portion of the law it threw out makes no distinction among drugs.
The decision came in the Arriola case, in which a group of young men from the provincial city of Rosario were each caught with small amounts of marijuana, arrested, and convicted. Under Argentina's 1989 drug law, they faced up to two years in prison.
But imprisoning people absent harm to others violated constitutional protections, a unanimous court held. "Each individual adult is responsible for making decisions freely about their desired lifestyle without state interference," their ruling said. "Private conduct is allowed unless it constitutes a real danger or causes damage to property or the rights of others. The state cannot establish morality."
"It is significant that the ruling was unanimous," said Martin Jelsma, coordinator of the Drugs and Democracy program at the Transnational Institute, which has worked closely with Latin American activists and politicians on drug reform issues. "It confirms the paradigm shift visible throughout the continent, which recognizes that drug use should be treated as a public health matter instead of, as in the past, when all involved, including users, were seen as criminals."
That paradigm shift has also occurred within the current Argentine government of President Cristina Kirchner, which favors a public health approach to drug use. The government has been waiting on this decision before moving forward with a bill that would decriminalize possession of small quantities of all drugs.
"The declaration of the unconstitutionality of the application of the drug law for marijuana possession is a great advance since it eliminates the repressive arm from a problem that should be confronted with public health policies," said Intercambios, an Argentine harm reduction organization. "Whatever retreat in the application of the criminal law in relation to drug users is positive; not only to stop criminalizing and stigmatizing users, but to permit the advance of educational, social, and health responses that are appropriate for this phenomenon."
Some Argentine harm reductionists warned that while the ruling was of transcendent importance, its real impact would be measured by its effect on the policies of the state. "In the vertical sense, it should oblige all the judges in the country to take heed of this declaration of the unconstitutionality of punishing drug possession for personal use," said Silvia Inchaurraga of the Argentine Harm Reduction Association (ARDA). "In the horizontal sense, it should force all the agencies of the state involved in drug policy to redefine their involvement to guarantee that they do not fail to comply with international human rights treaties subscribed to by the country," she added.
For the Argentine section of the global cannabis nation, it was a happy day. "Wow! This feels like honest good vibrations from the Supreme Court and the government," said Argentine marijuana activist Mike Bifari. "They really do have this new policy of generally being more tolerant and talking about human rights in the drug issue nationally and internationally, instead of that tired old war on drugs."
The Supreme Court decision will pave the way to full decriminalization, he said. "Although this was a marijuana case, the current law is about all types of drugs," said Bifari. "Now we have to wait for the government's scientific committee to come up with a draft of a new drug law, and that will be the government's bill in the congress. We think there are going to be lot of media debates and lots of discussion, and what we will try to do is to occupy all the different cultural spaces and try to advance on issues such as access and medical marijuana."
And so the wheel turns, and the United States and its hard-line drug policies are increasingly isolated in the hemisphere. As anthropologist Campbell noted, "This is happening all over Latin America. You'd think we might be able to do it here, too."