In December 2006, newly elected Mexican President Felipe Calderón announced a bold escalation in that country's decades-long struggle with wealthy, powerful, and violent drug trafficking organizations, calling in the army to join the struggle. Now, nearly 30,000 troops have joined thousands of state, federal, and local police in the fight, but the death toll continues to escalate, and Mexicans are getting fed up.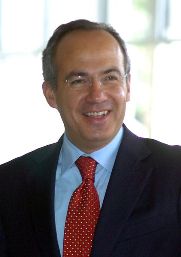 Last weekend, after yet another brutal month of prohibition-related violence, including the decapitation of 12 people in the Yucatán and the raking of a Chihuahua dance hall with gunfire that left 13 dead, including an infant, Mexicans took to the streets by the tens of thousands in cities across the land to say "Enough already!" They were protesting not only the violent drug trafficking wars, but also the more common crime -- robbery and kidnapping--that has become increasingly commonplace.
Most crimes go unsolved, and police corruption is endemic. While prohibition-related violence is often disturbingly brutal and sensational, it is only part of a larger wave of criminality plaguing the country. Marchers in Mexico City, for instance, were stirred by the August kidnapping and murder of a businessman's son by a group that included a police officer.
In Mexico City, tens of thousands of marchers filled the Zócalo, demanding action. "Security," they chanted. "If you can't do it, resign!"
"We can no longer live, we can't be safe anywhere," Enrique Contreras, 42, salesman and the victim of numerous robberies, told the Associated Press. "I hope those in government do their jobs. Otherwise, they should resign."
Calderón is attempting to respond to rising public disaffection with his crime and security policies. He met Sunday with protest leaders, pledging to set up citizen panels to monitor government progress, arm police with better weapons, and recruit better officers. But if he is not successful in reducing the violence, his war on the drug trafficking organizations could backfire on him.
"Calderón, who was on shaky ground after the closeness of the 2006 election, increased his public opinion approval by militarizing the fight against drug-trafficking violence in Mexico," Bruce Bagley, a Latin America expert at the University of Miami, told the Christian Science Monitor. "Many people were won over to him... I think Calderón has begun to lose the confidence of the Mexican people."