Officials from the District of Columbia announced Wednesday that the District government will invest $650,000 in needle exchange programs. The move comes less than two weeks after Congress passed an appropriations bill relaxing a decade-old ban on the District using even its money to fund such programs.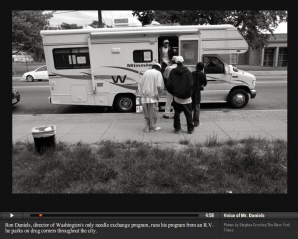 Mayor Adrian Fenty and several city council members made the announcement at a press conference at the headquarters of
PreventionWorks!
, a DC needle exchange program that had heretofore existed on only private funding. Now, it will get $300,000 in city funds. Public funding for needle exchange would help reduce the number of new HIV infections in the city, they said.
"This program goes to best practices to combat one of our greatest health problems," Fenty said at the news conference. Given the high prevalence of HIV in the District, "everyone should be concerned," he said. "HIV and AIDS are such well-known public health problems in the District of Columbia that people understand we have to have programs and services in the neighborhoods," the mayor said.
The rest of the $650,000 will go to fund additional needle exchange programs throughout the city, he said.
It is money well spent, said DC Councilmember David Catania (I-At Large), chairman of the Committee on Health. "The cost of infection is immeasurably higher in terms of dollars and lives," he said.