French Interior Minister Michèle Alliot-Marie went to the French Riviera town of Antibes on Monday to give a public kick-off to a new French campaign to crack down on drugged drivers. In the new campaign, some 50,000 drug screening kits will be handed out across France.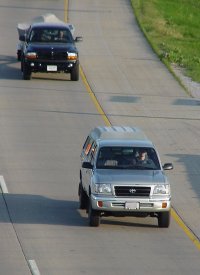 With the saliva tests, drivers are asked to spit on a stick, which is then dipped in a chemical substance to test for the presence of marijuana, ecstasy, cocaine, heroin, or amphetamines. If no drugs are present, a red line appears on the stick after a few moments. If drugs are detected, the stick stays white.
Any positive result must be followed up with a blood test to ensure that other medications are not creating a false positive. The consequences for a drugged driving conviction are steep: a maximum fine of about $6,700 and up to two years in jail.
The tests are not supposed to detect cannabis use for more than a few hours after smoking, but three of the first 10 tests tried at Antibes came back positive for marijuana. At least one of the drivers protested in vain that the last time he had smoked was three days earlier.
The saliva tests, similar to those used in South Australia, should save hundreds of lives a year, French officials said. A 2005 French study suggested that smoking marijuana doubled the risk of a fatal accident. When smoking was mixed with drinking, the risk increased 15-fold. The study claimed marijuana caused 230 highway deaths a year in France.
Not everyone agrees with the French position on marijuana and driving, including some of the leading experts in the field. Last October, 11 of them urged polities to reject zero tolerance impaired driving laws with respect to marijuana. Such laws are not evidence-based and could snare marijuana users who are not impaired, they said. Of course, if all else fails, police could just test for actual impairment, whatever the cause.