Another harvest season has come and gone, and the state of California has once again forgone the opportunity to reap hundreds of millions of dollars in marijuana tax revenues. Instead, the state attorney general's office proudly announced this week that the annual Campaign Against Marijuana Planting had uprooted some 3 million plants, wiping out an estimated $11.6 billion worth of weed.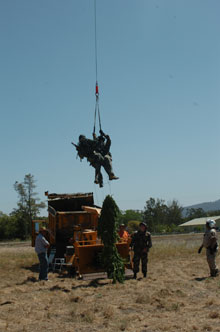 That is more than twice the value of the state's largest legal agricultural commodity, milk and cream, which was worth $5.2 billion in 2005, according to the state Department of Food and Agriculture. It is nearly four times the value of the state's largest legal cash crop, grapes, which was worth $3.2 billion.
While the value of the plants eradicated exceeds that of the state's licit cash crops, they are only a fraction of the state's outdoor crop. Using state and federal government figures, researcher Jon Gettman estimated that the state's outdoor plant count in 2006 was more than 17 million plants in his report Marijuana Production in the United States (2006). Assuming marijuana production levels were unchanged between this year and last, that means CAMP did not eradicate some 14 million pot plants.
According to CAMP's $4,000 a plant estimate, that's some $50-60 billion in marijuana profits that went un-eradicated and untaxed. Gettman uses much smaller crop value estimates, but even using Gettman's more conservative figures, the untouched California pot crop was worth about $10 billion. And we're not even counting the estimated four million plants grown indoors in California in 2006 and presumably again this year. Ending prohibition might reduce the prices by eliminating the "risk premium" effectively added by the current illicit status, but we're still talking about a lot of money.