The nonpartisan New Zealand Drug Foundation (NZDF) is attempting to jump-start a renewed national debate about marijuana policy in the country, and it appears to be working. Since its call for a "national conversation" a week ago, NZDF has garnered considerable media attention and prompted responses from activist groups, political parties, and government officials.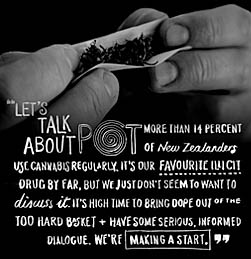 "Cannabis is New Zealand's favorite illicit drug," said NZDF executive director Ross Bell as he kicked off the crusade, "but it receives scant attention from politicians, policymakers or the media. When it is discussed, evidence is often discarded in favor of myth, misinformation and polarized posturing."
According to recent national research, 18% of New Zealanders between the ages of 15 and 45 are regular users, while 58% of that group have used it at least once. But while use levels are relatively high, support for legalizing marijuana has declined, according to NZDF-commissioned polls released last week.
That polling found that just 19% want marijuana laws liberalized, down from 60% in 2000. The study found that 46% were happy with the status quo, while 34% wanted the laws to be tougher.
NZDF does not take a position on marijuana law reform, but it argues that policy should be based on scientific evidence. "Misinformation and hysteria don't help a society deal effectively with cannabis use, and stigmas around use and fear of prosecution often prohibit cannabis-dependent people from seeking much needed help," said Bell.
"Parliament hasn't touched cannabis since the Health Commission Inquiry in 2000, which did make a number of recommendations. However, debate was stifled by the 2003 coalition agreement between the government and United Future, which effectively froze the legal status of cannabis," Bell noted.
"But while politicians ignore the pot problem, its associated social harms continue. We need government to take the lead in formulating good, well-researched policy discussion based on best evidence. We need the addiction treatment, public health and drug policy sectors to get vocal and inject their knowledge into the debate as well," he said.
The New Zealand Green Party was quick to welcome the call for a renewed conversation on marijuana. "The drug debate in New Zealand very quickly becomes dominated by fear and anxiety," Green MP Metiria Turei said in a press release last week. "Developing a sensible approach to drug uses becomes very difficult in that kind of climate."
Citing marijuana use figures, Turei said: "Rather than these figures indicating that every second New Zealander is a drug-addled criminal, they show that current government policies are not based on the reality of the situation and do not contribute to developing socially responsible behavior."
Cannabis should part of a broader regulatory system for drugs including alcohol and tobacco, and the NZDF call is an important first step, she said. "A balanced and informed national debate facilitated by the Drug Foundation will be an excellent step towards developing a constructive approach to drug use, rather than the piecemeal, fanciful and ultimately damaging official response that currently exists," according to Turei.
Deputy Health Minister for drug policy Jim Anderton took issue with Bell's contention that the government had ignored marijuana in pursuit of the drug threat du jour. "I must say that I am surprised and concerned at the comments by the Executive Director of the Drug Foundation, that politicians don't want to talk about cannabis because it is not a 'vote winning issue'. He can't be talking about me!" Anderton said in his own press release. "I've spoken about the harm it causes at meetings all around the country and at some of those he was also present," he noted.
"Parliament is not ignoring the issue," Jim Anderton said, pointing to an inquiry four years ago. "There was a Health Select Committee inquiry into cannabis in 2003 with various recommendations made to the Government. The efforts outlined above have been part of the Government's response to these recommendations."
"In my view the jury is now in on cannabis -- from research in New Zealand and overseas. Cannabis is a much more harmful drug than its supporters have hitherto declared and we would encourage its use at the peril, particularly, of our younger citizens. Surely in alcohol and tobacco we have enough serious drug abuse problems to deal with and I'm surprised that the New Zealand Drug Foundation has any doubts at all about that," Anderton said.
New Zealand NORML, for its part, called for a "clear-headed" approach to a new discussion of marijuana policy. It also took issue with the new poll numbers suggesting support for legalization had declined.
"The latest poll asked whether cannabis laws should be made 'tougher' or 'more liberal', but previous polls had asked whether people wanted continued prohibition, decriminalization or legalization. If you change the question, of course you will change the result. That's a no-brainer," the group said in a press release. "If they had asked the same question we think they would find there remains strong support for cannabis law reform. There is very little public appetite for arresting and jailing responsible adults who use cannabis in the privacy of their own home, yet that is the daily reality of the existing cannabis laws."
Prohibition is not the answer, New Zealand NORML said. "Many people want access to cannabis made tougher, but prohibition merely provides an illusion of toughness. Behind the facade it is very easy for minors to access cannabis whenever they want. Age ID is not requested, and buyers are often put in contact with other drugs. If we seriously want tougher cannabis laws, the best way to do that is to regulate and license its sale, including strict enforcement of a purchase age."
And so the conversation begins again in New Zealand.