In the run-up to Trinidad & Tobago's national elections Monday, United National Congress (UNC) Party leader Basdeo Panday called for a new approach to dealing with marijuana in the island republic. It wasn't enough to bring the UNC to victory, though; it was defeated once again by the ruling People's National Movement (PNM), which picked up 26 seats in the legislature, compared to 15 for the UNC. Still, the leader of the primary opposition party in the country is calling for a reefer reassessment.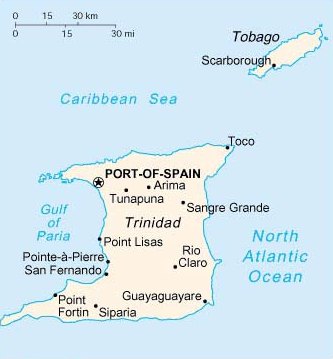 "I think we ought to look at that to see whether prohibiting things really ends the problem,"
Panday said during a pre-election radio forum
. Panday recalled the "old days," when there was a shop selling "ganja" in Princes Town and people would smoke it in chillums on Saturday nights after working in the fields all week. "It never was a problem. That is the strange thing about it. I think we ought to go back and study that," Panday said.
If ganja were to become unavailable because of police crackdowns, Panday said, "fellas would plant it in their backyard" and such a crackdown would be as unsuccessful as American attempts to prohibit alcohol in the 1920s. There needed to be "another approach" to marijuana," he said without going into specifics.
Although marijuana is woven into Trinidad & Tobago culture, as it is throughout much of the Caribbean -- "The Ganja's Farmer's Lament" topped the charts there a couple of years ago -- the islands' use rates are among the lowest in the region. According to the United Nations Office on Drug Control 2007 World Drug Report, use rates were 3.7% in Trinidad and Tobago, compared with nearly 11% in Jamaica and more than 5% in Barbados, Bermuda, Grenada, Haiti, St. Vincent and the Grenadines, and the Turks and Caicos Islands.
Marijuana is one thing, but "heavy drugs" are another matter, Panday said, claiming that 80% of crime in the country was linked to their use and trafficking. To combat hard drugs, he said, the "mafia" would have to be dealt with.