Two Dutch Left Green (GroenLinks) politicians have opened a web site to promote marijuana and its legal use and enjoyment. The Weed Map web site includes a search tool that locates all of Holland's coffee shops, as the country's marijuana bars are colloquially known. Coffee shop locations are marked with a pot leaf logo, moving one's mouse over which causes a window with the shop's street address to pop up.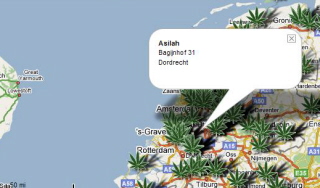 Left Green politicians David Rietveld and Koen Martens opened the web site because they want marijuana to be available to all "because smoking cannabis is pleasant," as the site says. "Smoking cannabis should simply be allowed. Always and everywhere. Because it is pleasant and in many respects better than alcohol, for example. Better for people's health and better for society."
But that isn't always the case, even in Holland, the site warns. "Some places do not offer the possibility of using cannabis. It is up to you to join us in charting these problem areas. Then we can urge councils to make sure coffee shops are within everybody's reach for once and for all."
The site was set up to parody the Weed Free anti-marijuana web site set up by the ruling Christian Democrats (CDA). "The CDA website states that cannabis use may be linked to psychological complaints," Rietveld told reporters over the weekend. "There is insufficient scientific evidence to support this, however."