Britain's Association of Chief Police Officers (ACPO) last week issued new guidelines for arresting or issuing warnings to marijuana possessors that would create a "three-strikes" rule for repeat offenders, but give officers discretion on whether or not to arrest teenage offenders. The move comes nearly four years after Britain reclassified marijuana as a less-serious Class C drug, giving officers the discretion to either arrest or issue warnings.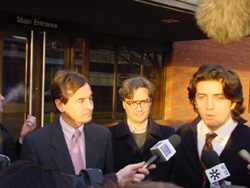 According to ACPO, "These guidelines do not encourage the same offender being repeatedly warned for possession of cannabis. Where it can be verified that an offender has received two previous cannabis warnings then a further warning should not be considered."
But for people who have not had two previous cannabis warnings, ACPO said, "A police officer finding a person aged 18 or over in possession of a substance that they can identify as cannabis and who is satisfied that the drug is intended for that person's own use should not normally need to arrest the person."
At the same time, the ACPO guidelines said police could find "less intrusive ways" of dealing with teens caught with marijuana than arresting them. The group suggested that officers take the kid home to his parents and keep a record of the incident.
A similar "three-strikes" policy was considered by ACPO in 2002, but scrapped before the warning system was put in place. This latest guidance from ACPO responds to widespread concerns that the current situation leads to uncertainties among police and the public alike. Police have complained that many people they encounter believe marijuana has been legalized, while marijuana users complain that they are still being arrested.
So, when is someone likely to be arrested instead of warned for marijuana possession? According to the ACPO, an arrest may be warranted when:
The name and/or address of the suspect are not known or there are reasonable grounds for doubting whether a name given is a real name.
It is necessary to prevent the offender suffering physical injury or causing injury to someone else.
If a locality has been identified through the National Intelligence Model as one where there is fear of public disorder associated with the use of cannabis which cannot be effectively dealt with by other means, such as where an open drugs (cannabis) market causes harm to communities.
It is necessary to protect a child or vulnerable person from the offender.
It is necessary to allow the prompt and effective investigation of the offense.
A report issued this week by the Joseph Rowntree Foundation's Institute for Criminal Justice Policy Research, "Policing Cannabis as a Class C Drug" , suggests that much of the uncertainty and inconsistency lies with the police themselves. According to that report, in four police areas studied, police arrested marijuana possessors or smokers between 78% and 58% of the time. The decision to arrest or not depended on a variety of factors, including the attitude of the officer, the attitude of the offender, local policies, and the amount of marijuana seized.
"When cannabis was reclassified as a Class C drug, guidelines were issued advising officers to give street warnings for most possession offences, arresting only in aggravating circumstances," the report noted. "We found that street warnings were issued for under half of possession offences. Over half of officers were against the downgrading and many said that cannabis arrests often led to the detection of more serious crimes. In fact, we found that this occurred in less than one percent of cases."
Almost half of police officers complained of the unfairness of having to arrest teenagers -- a policy that has now changed. One police officer interviewed for the study said: "It just seems a bit unfair for a 16-year-old to get nicked for it and an 18-year-old in the same group to get a slap on the wrist and that's it."
The study also found that police seemed to encounter marijuana offenders more often among members of Britain's ethnic minorities. "People from black and minority ethnic groups were heavily over-represented amongst offenders in three of the sites and somewhat over-represented in the remaining site," the study reported. "Whilst the study cannot disentangle the factors that might explain this over-representation, it clearly highlights the need for police forces to monitor trends closely in the disposal of possession offences."