Agents of the US Drug Enforcement Administration (DEA) raided 11 Los Angeles County medical marijuana dispensaries Wednesday, including five in the city of West Hollywood, where supportive officials have been working with store owners to responsibly regulate their operations. The raids mark a departure from recent DEA actions in the state, which for the most part this year have targeted dispensaries in areas where local officials are unsupportive of or even hostile to medical marijuana.
DEA agents dressed in SWAT-style attire seized several thousand pounds of processed marijuana, bagsful of cash, guns, and hundreds of marijuana plants. Agents detained 20 people, but none have so far been charged with any crime. It was the largest DEA swoop in the county in recent memory.
The DEA raiders were greeted yesterday by dozens of protestors chanting "DEA Go Away" and "States' Rights" along Santa Monica Boulevard, where four of the raided dispensaries sit in a five-block stretch. Thursday morning, about 100 people gathered at West Hollywood city hall to protest the assault on the state's medical marijuana law.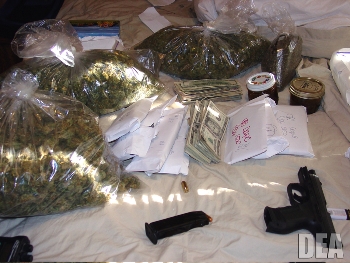 California voters approved the use of medical marijuana in a 1996 initiative, but the federal government has never accepted that law. Wednesday's raids were only the latest skirmish in an ongoing battle that has seen dozens dispensaries raided this year. Unlike raids in places like Modesto, Riverside County, and San Diego, where recalcitrant local law enforcement worked hand in glove with the feds, the Los Angeles County Sheriff's Department did not participate, except to provide crowd control for anticipated expressions of public displeasure, and was not even informed of the raids until shortly before they took place.
"It's outrageous that we have a situation where the voters have spoken, the legislature has spoken, the courts have affirmed it, local officials are regulating it, and then the DEA comes in and says 'we know better,'" said William Dolphin, communications director for the medical marijuana defense group Americans for Safe Access, which helped organize the Wednesday and Thursday protests. "This is not how a democracy is supposed to work, and it is a terrible problem for patients. They say they aren't targeting patients, but they're doing everything they can to shut off their access to their medicine, and they're taking a page from the terrorists' handbook by simultaneously hitting a bunch of places to create an atmosphere of pervasive fear."
Medical marijuana activists were not the only people upset by the raids. The West Hollywood city council, which supports the state's medical marijuana law, had only the night before introduced an ordinance establishing permanent regulations for the dispensaries. It was thus little surprise that council members reacted testily.
"The state of California voted to allow marijuana for medical purposes," said West Hollywood city council member Abbe Land. "The City of West Hollywood along with other cities across the state have established regulations to govern the dispensing of medical marijuana, so that people whose lives depend on this drug can be assured of safe access to their medicine. The DEA should spend their time going after dispensaries that are not operating in accordance with local ordinances, as well as unscrupulous doctors who write illegitimate prescriptions," she continued.
"Today's actions again demonstrate the skewed priorities of the Bush administration and the U.S. Drug Enforcement Administration," said West Hollywood City Council Member Jeffrey Prang. "Providing safe access to medical marijuana for those living with serious and often painful illnesses such as HIV/AIDS, cancer and other terminal diseases is something this city supports. We have worked closely with our community to insure these establishments operate safely and comply with the spirit of Proposition 215 adopted by the voters of California."
The DEA couldn't care less. For the agency, marijuana is illegal, period. For the feds, the raids are not about stopping people from getting their medicine, but about crime, or at least so they say. "Today's enforcement operations show that these establishments are nothing more than drug trafficking organizations bringing criminal activities to our neighborhoods and drugs near our children and schools," crowed DEA Acting Special Agent in Charge Ralph Partridge, as the agency displayed seized cash, candy bars, and cannabis.
"We're here to enforce the drug laws," DEA Los Angeles spokeswoman Special Agent Sarah Pullen told Drug War Chronicle Thursday. "Those were marijuana distribution centers, and the cultivation, possession, and distribution of marijuana in any form is a crime under federal law. Obviously there is a drug problem out here and there are many different types of drugs. We're working many different kinds of cases, and these raids are just one of them. We're doing our best to enforce the law."
"You certainly have to wonder if these guys don't have anything better to do," said Bruce Mirken, communications director for the Marijuana Policy Project. "They raided several places in West Hollywood, a city which is working very hard to regulate its dispensaries to ensure that they're operating properly. The DEA cannot reasonably argue that these were runaway dispensaries; they went after some of the most carefully regulated dispensaries in the state," he told the Chronicle.
"This is yet one more example of the federal government's priorities being out of whack with any respect for federalism and state's rights, let alone human decency," Mirken said. "One can only hope this will give new impetus to efforts in Congress to rein them in," he said, referring to what was known in previous years as the Hinchey-Rohrabacher amendment, which would bar the use of federal funds for raids on medical marijuana patients and providers in states where it is legal.
"That's the only good side to this," said ASA's Dolphin. "Speaker Pelosi is an outspoken defender of medical marijuana access for patients, and we have a large number of new Democrats in the House, along with some Republicans like Rohrabacher. With this new Congress, we're much closer to passing something like Hinchey-Rohrabacher. And we will definitely see much more pressure for the DEA to provide some accountability."
When asked whether the agency might be setting itself up to lose funding for raids against medical marijuana patients and providers in states where it is legal, the DEA's Pullen deferred to Washington. "That's a question for the director," she said. "We're just here to enforce the law." A Chronicle call to DEA director Karen Tandy's office has so far gone unreturned.
With the Justice Department and the DEA feeling emboldened since last year's Supreme Court decision in Raich, it may be that the only way to bring an end to the raids is to adopt a tactic increasingly bruited about in discussions of ending the war in Iraq: Cut off the funds.
Advocates will demonstrate against the DEA raid on Monday, January 22, noon, at 255 East Temple Street in Los Angeles, and a planning meeting will take place the preceding Saturday. Visit http://www.ASAaction.org for further information or to download a master copy of the event flyer. Visit http://www.safeaccessnow.org/article.php?id=3747 for info on supporting events happening nationwide.