As of January 1, possession of salvia divinorum in Illinois will be a felony. Before the legislature passed a bill this year, the obscure Mexican mint with hallucinogenic properties had been unregulated and freely sold at tobacco stores, "head shops," and even gas stations.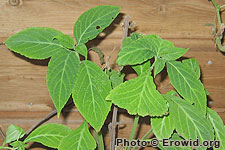 "We decided to move forward rather than waiting for someone to be killed because of it," said state Rep. Dennis Reboletti (D-Elmhurst), the bill's sponsor. He told the
Chicago Tribune
it was necessary for Illinois to regulate the herb tightly because the federal government had failed to act. The DEA considers salvia a "drug of concern," but has so far not moved to schedule it under the Controlled Substances Act.
Salvia has traditionally been used in religious ceremonies by Mazatec Indians in southern Mexico, but in recent years, it has spread to the US and other countries, where it is easily available over the counter or via the Internet. At high doses, salvia can produce intense hallucinations, but those effects are short-lived, with a "trip" being over in a matter of minutes. It is not a drug experience that most users wish to repeatedly revisit.
But for Reboletti and his peers, the risk of teens and college students from salvia use are so great that it must be banned. "It's very likely that you could hurt yourself or hurt others while in this drug-induced state," he said.
But others said that given salvia's spiritual and medical uses and potential, banning it is too harsh. Crystal Basler, owner of a religious supply store in Carbondale, told the Tribune most of her customers were medical -- not recreational -- users. "Some people describe [the effect] as they get very relaxed, kind of like taking an anti-stress pill," Basler said. "The leaf is very, very mild. There's no reason to ever make the leaf illegal. A lot of women buy it for PMS depression."
Salvia should be regulated, but not banned, she said. "I'm a big fan of it being regulated," Basler said. "But it shouldn't be illegal because you're interfering with people's right to choose in terms of their health care and religious following."
Salvia has already been made a Schedule I drug under state laws in Delaware, Louisiana, and Missouri, as well as a handful of towns around the country. Bills to ban it have also been brought in Alabama, Alaska, California, Florida, Iowa, New Jersey, New York, Ohio, Oregon, Pennsylvania, and Texas, but have so far not succeeded.