Last week, Drug War Chronicle reported on an escalating campaign to criminalize salvia divinorum, the fast- and short-acting hallucinogenic Mexican member of the mint family whose use has seeped into the popular consciousness among North American psychonauts in the past decade. The story opened with the town of Middlebury, Vermont, declaring a public health emergency to stop a local tobacconist from selling the potent herb.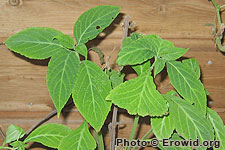 Now, the store owner is fighting back. The day our story ran, James Stone, proprietor of the Emporium Tobacco and Gift Shop,
announced he will appeal the order
and has hired an attorney to fight it. "If they had come to me first, I would have worked with them," Stone said.
But that's not what happened. The town council acted on the matter without notifying Stone, who only learned of the ban when a reporter called him the next day. The council acted after Police Chief Tom Hanley reported that the town school resource officer had become aware that teenagers were using salvia. While Hanley could not name any cases where anyone had suffered any adverse effects from ingesting the drug, he urged the council not to take that chance. "It's a tragedy waiting to happen," he said.
Hanley also made the odd claim that the hallucinogenic effects of salvia, which last for less than 20 minutes, can be extended for several hours if the user is drinking alcohol. "You can't have kids with developing brains putting this stuff in their bodies," Hanley warned. "The effects are different for different individuals and you just don't know what's going to happen."
But the Middlebury ban is not just against sales to minors. It is a total ban.
Salvia has been a "substance of concern" for the DEA for several years, but remains legal under federal law. Five states and a handful of municipalities have criminalized it, and similar efforts are afoot in seven other states this year. But Middlebury is unique in having chosen the public health emergency route.
That's raising eyebrows among civil libertarians. "It sounds very arbitrary and very broad and very subjective," said Allen Gilbert, executive director of Vermont's chapter of the American Civil Liberties Union. "How does one person make the determination that something is a danger?" Gilbert said.