One of the feature stories in the news this week was the annual ritual of the Thanksgiving "Turkey Pardon." This year "Flyer" and "Fryer," their names chosen in an online reader poll on the White House web site, got to live out the remainder of their natural lives on a farm in rural Virginia. The Turkey Pardon, a quasi-official act of the sitting US President, has happened reliably every Thanksgiving week for nearly 60 years.
Another annual occurrence has been the current President's relative disuse of his power to grant clemencies and pardons. When I
first commented on the Turkey Pardons
, "Stars" and "Stripes" in 2003, Bush had yet to use the power at all. Now that is no longer completely true, but it is still close to being true.
According to the San Francisco Chronicle's Debra Saunders
, the federal prisoner count rose steeply since 2003 -- from 150,000 to over 190,000 -- while the president has issued a mere two commutations and 97 pardons over his entire term. As a long-time vegetarian, I certainly don't oppose the turkey pardons. But when it comes to another long-time White House holiday tradition, Christmas pardons of people, George Bush has been a veritable Scrooge, if not a Grinch, and that should stop.
Yet another thing that happens over and over -- something no one would dare to call a tradition, yet whose reoccurrence is plainly inevitable -- is the accidental killing in drug raids of innocent or at least nonviolent people by paramilitarized police squadrons. What happens is that SWAT teams, many of which have more or less turned into drug squads, will use incredibly aggressive tactics like battering rams or stun grenades to break into homes of suspected drug offenders. The people inside, not expecting the intrusion and not understanding it to be any different from an attack, react with mere trauma most of the time, but sometimes by dying of heart attacks or by pulling out guns in self-defense and getting shot. Sometimes the people inside get shot whether they pull out guns or not.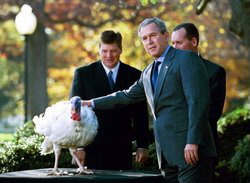 A
report by the Cato Institute this year
examines the problem in detail. It has been growing.
Atlanta's Kathryn Johnston was the latest victim.
The 92-year old opened fire on three police officers after they forced their way into her home without knocking. The officers were wounded, but returned fire on Johnston, who was killed. People are justifiably angry, many regarding Johnston's use of her weapon as justified in the circumstances, albeit tragic in where it led. Police called the incident "tragic" but said they were executing a legal warrant after an undercover officer had bought drugs at her home. Time will tell if that claim is truthful or otherwise. But even if it is, how does it justify what happened?
Drug war killings by SWAT teams of people who are innocent or undeserving of it are only one of the many drug war outrages that happen over and over. In my opinion it is time to say "enough is enough."
As a first step, I ask that those of you reading this, who have other drug war outrages they care about, make posts discussing them to the comment section at the bottom of this web page. (If would be great if you could log in first too, so you won't be "anonymous" and people including us at DRCNet will know how to reach you. We're going to be doing some redesign work to make that easier during the next few weeks.)
Next week we will begin to talk about step two...