It's a week heavy with crooked guards peddling dope to prisoners, but we also have missing drug evidence in Boston, a cop marketing meth in Mississippi, and a Border Patrol agent headed for prison. Let's get to it: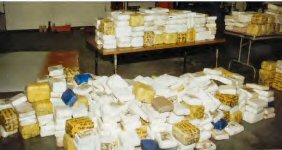 In Boston,
all 10 Boston Police officers working in the department's central drug warehouse have been transferred because anticorruption investigators think someone is stealing evidence
. The department has been aware of the missing dope, much of it Oxycontin, for several weeks, but only confirmed last week that it thinks the drugs have been stolen. It is seeking help from the State Police. The drug warehouse holds evidence from 190,000 cases, some going back 20 years. Police said it appeared many of the missing drugs were from cases that had been dismissed. The Boston Police said this week that "findings suggest that evidence tampering is not solely historical, but also current."
In Moss Point, Mississippi, a Moss Point Police officer was arrested December 7 on federal drug distribution charges. Officer Wendy Peyregne was on duty, in uniform, and holding six grams of methamphetamine when she was arrested in Pascagoula and charged with meth distribution. The arrest was the result of a joint investigation by the Moss Point Police Department, the FBI Safe Streets Task Force and the Narcotics Task Force of Jackson County, and came after at least two snitches bought speed off Peyregne. She faces up to 20 years in prison and a $2 million fine.
In Houston, a former US Border Patrol agent was sentenced December 7 to 14 years in prison for taking bribes to help drug and immigrant smugglers and selling immigration documents. David Duque, 36, pleaded guilty to bribery and document counts in September. Prosecutors showed that he had accepted $5,000 to let a vehicle carrying 11 pounds of cocaine to go through the Falfurrias, Texas, highway checkpoint in June. FBI agents said Duque had been doing it for years, as well as selling passports, birth certificates, and other identification documents.
In Onslow County, North Carolina, a New Hanover County jail guard was arrested December 7 when he was caught with two pounds of cocaine. Thurston Miles, 33, went down after a two-month investigation by the State Bureau of Investigation, the Onslow County Sheriff's Office and the New Hanover County Sheriff's Office. He now faces cocaine distribution charges, and was last reported sitting in jail under a $500,000 secured bond.
In Oklahoma City, an Oklahoma County jail guard has been arrested for smuggling marijuana and other contraband into the jail. County detention officer Eddie Daniels was busted with a quarter-ounce of pot and 3 ½ pounds of tobacco when he reported for work at the jail. Jail officials also turned up a half-pound of pot in the jail they said was linked to Daniels' arrest. Investigators said they believed Daniels had made $5,000 working with an inmate to bring contraband into the jail. The inmate also faces drug and contraband charges. No word yet on the formal charges Daniels faces.
In Linton, Indiana, a Wabash Valley Correctional Facility officer was arrested December 8 and charged with financing the delivery of methamphetamine. Dustine LeDune, 24, was being held without bond. LeDune was arrested after making a deal to sell an eightball (3.5 grams) of meth in a Wal-Mart parking lot, but Linton Police said they had been investigating him for several months. Correctional facility officials said LeDune has been suspended pending the outcome of his trial.
In Hutchinson, Kansas, a prison contract worker was sentenced to 15 months behind bars for selling meth to prisoners. Joseph Delancy, who worked for Aramark Services at the Hutchinson Correctional Facility had pleaded guilty to trafficking in contraband in a correctional facility, possession of methamphetamine with intent to sell and unlawfully arranging a drug sale by a commercial device. He could have received almost 5 years in prison, but Judge Tim Chambers was apparently moved by his contention that he fell into drug use after the death of his 4-year-old son.
In East Baton Rouge, Louisiana, an East Baton Rouge Parish Sheriff's Office deputy was arrested Sunday night for allegedly peddling drugs in the Parish Prison. Deputy Kendrick Jamond Lockett, 24, was arrested after an investigation by the sheriff's office, the Baton Rouge Police Department the Louisiana Office of Alcohol, Tobacco and Firearms, and a snitch. Lockett is charged with attempting to enter contraband into a penal facility, malfeasance in office, possession with intent to distribute marijuana, possession with intent to distribute Ecstasy, attempt to distribute marijuana and attempt to distribute Ecstasy. He was fired Monday morning as he sat in jail.