by psmith, July 12, 2023, 11:12pm, (Issue #1191)
In its latest move to confront the rapidly rising incidence of overdose deaths and other deleterious consequences of the combination use of the veterinary tranquilizer xylazine ("tranq") and fentanyl, the Biden administration on Tuesday released a National Response Plan to coordinate a whole-of-government approach to the threat.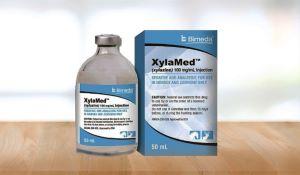 The plan calls for a public health campaign of increased testing and treatment and more data collection to see how the drug combo spreads and contributes to overdose numbers. But it also calls for looking into whether to schedule xylazine and includes the reflex resort to law enforcement to try to suppress supply.
This is just the latest in a series of steps the administration has taken since late last year to address the emerging phenomenon. Last December, Office of National Drug Control Policy (ONDCP -- the drug czar's office) head Dr. Rahul Gupta hosted a listening session with public health and public safety leaders and subject matter experts from several states and territories about trends they are seeing related to xylazine and efforts to address these trends. In January, Dr. Gupta convened the Evolving and Emerging Threats Committee to discuss the emergence of fentanyl adulterated with xylazine in the illicit drug supply.
In February, the Food and Drug Administration took action to restrict the unlawful entry of xylazine active pharmaceutical ingredients and finished dosage form drug products into the country and in March, the Drug Enforcement Administration issued a public safety alert to warn the American public of a sharp increase in the trafficking of fentanyl mixed with xylazine. In April, Dr. Gupta named the xylazine-fentanyl combination an emerging public health threat, the first time such a designation has been used since Congress authorized it in 2018.
"Since we announced the emerging drug threat earlier this year, we've been working tirelessly to create the best plan of attack to address this dangerous and deadly substance head-on," said Dr. Gupta in a statement. "Now, with this National Response Plan, we are launching coordinated efforts across all of government to ensure we are using every lever we have to protect public health and public safety, and save lives. As a doctor, I have seen the devastating consequences of xylazine combined with fentanyl firsthand. And as President Biden's drug policy advisor, I am laser-focused on finding every tool we have and following the best evidence-based practices to take on this new challenge. This will be an all-hands-on-deck effort -- but I am confident we can take action together and eradicate this emerging threat."
Fentanyl first emerged as a significant actor in the illicit drug market in the early to mid-2010s, while xylazine entered the scene in the late 2010s. Now, xylazine has been detected in nearly every state in the country, and xylazine-involved overdose deaths are skyrocketing, albeit from very low initial levels. The Centers for Disease Control and Prevention (CDC) reported last month that the monthly percentage of fentanyl deaths with xylazine detected jumped from 2.9 percent in January 2019 to 10.9 percent in June 2022. CDC also found that the death rate from xylazine overdoses jumped 35-fold from 2018 to 2021.
Xylazine is a tranquilizer, not an opioid, and thus does not respond to opioid overdose reversal drugs such as naloxone. It also has other serious potential health effects, including wounds that may eventually require amputations, as well as breathing difficulties.
"If we thought fentanyl was dangerous, fentanyl combined with xylazine is even deadlier," Dr. Gupta said in a press call previewing the plan Monday.
But he warned that the plan will need Congress to step up with funding if it is to be be fully implemented. He noted that the Biden administration Fiscal Year 2024 budget request includes funding for emerging threats.
"We will do what we can with what we have until we get the resources from Congress," Dr. Gupta said. "It's a matter of utilizing what we have right now in order to save lives while we're encouraging Congress to pass the president's budget and provide those resources as quickly as possible. We're going to move ahead as quickly as possible because the fact is that lives are on the line."
back to top