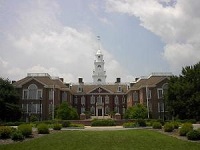 With the governor stepping out of the way this time, Delaware just became the 22nd state to legalize marijuana.
In the new Congress, another attempt to get the SAFE Banking Act passed is now underway.
Senate Republicans play politics with a veterans' medical marijuana bill, and more.
An Oklahoma cop ripped off both the department and his fellow officers, an Arizona prison guard takes the whole family along for a smuggling trip, and more.
Dispensaries are finally coming to Georgia (though product choice is limited), a trio of 4/20 week polls show continuing strong support for marijuana legalization, and more.
Another year of no marijuana legalization for Louisiana, the European Union sanctions Syrian officials and entities for trafficking in a Middle Eastern amphetamine, and more.
A bipartisan bill addressing xylazine gets filed, Texas Republican senators block a fentanyl test strip bill, and more.
The Texas House gives preliminary approval to a marijuana decriminalization bill, Senate Republicans block a veterans' medical marijuana bill, and more.
Permission to Reprint:
This issue of Drug War Chronicle is licensed under a modified
Creative Commons Attribution license
. Articles of a purely educational nature in Drug War Chronicle appear courtesy of DRCNet Foundation, unless otherwise noted.