by psmith, May 26, 2022, 12:42am, (Issue #1160)
With Gov. Dan McKee's (D) signature Wednesday, Rhode Island became the 19th state in the US to legalize marijuana. The measure he signed into law, Senate Bill 2430, had won final floor votes in both chambers of the legislature on Tuesday. It was the product of months of negotiations among legislative leaders and the governor and within the legislature itself.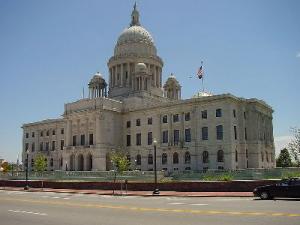 The new law allows adults to possess and purchase up to an ounce of marijuana and grow up to three plants at home and that part of the law goes into effect immediately. It also includes a provision for the automatic expungement of past civil or criminal marijuana possession convictions by July 2024 (and those who want it sooner can request it). Additionally, it creates a system of taxed and regulated marijuana commerce, with a 10 percent tax on retail sales and another 10 percent in state and local sales taxes. Retail sales could happen as soon as December 1.
And it has significant social equity provisions. It reserves one quarter of all new retail marijuana licenses for applicants that qualify as social equity businesses and it creates a social equity assistance fund providing grants, job training programs, and other social services for communities most negatively impacted by pot prohibition. In an additional twist, the new law also reserves a quarter of new licenses to worker-owned cooperatives.
"This bill successfully incorporates our priorities of making sure cannabis legalization is equitable, controlled, and safe," Governor McKee said in a statement announcing the signing. "In addition, it creates a process for the automatic expungement of past cannabis convictions. My administration's original legalization plan also included such a provision, and I am thrilled that the Assembly recognized the importance of this particular issue. The end result is a win for our state both socially and economically."
"The reality is that prohibition does not stop cannabis use," said bill sponsor Sen. Joshua Miller (D-Dist. 28, Cranston, Providence), chairman of the Senate Health and Human Services Committee. "Since Rhode Islanders can already access cannabis just across the state border or on the illicit market, we experience all the challenges without any of the safeguards or resources that our neighboring states have. With this bill, we are ending prohibition in a way that is safe, keeps revenue in Rhode Island, and is as fair and equitable as we can possibly make it."
"Social equity has been a top concern for us throughout this whole process. Senator Miller and I represent some of the communities that have suffered disproportionate harm from prohibition for decades, resulting in generational poverty and mass incarceration. The starting line isn't the same for people in poor, urban and minority communities, and they deserve support to ensure they get the full benefit of participating in legalization. I am grateful to my colleagues in the General Assembly for recognizing the importance of expungement of criminal records and equity in licensing, because they are absolutely critical to ending prohibition fairly," said bill sponsor Rep. Scott A. Slater (D-Dist. 10, Providence).
The Marijuana Policy Project (MPP), which has worked on the issue in the state for years, pronounced itself pleased with the results in a statement Wednesday, but cautioned that now this progressive law will have to be implemented correctly.
"After years of persistent advocacy by organizations and supporters across the state, lawmakers have enacted a well-crafted cannabis legalization law that will create new opportunities for Rhode Islanders and begin the process of addressing decades of harm caused by prohibition," said MPP state campaigns manager Jared Moffat. "There is more work to be done to ensure that the full promise and potential of this legislation is achieved, but today is a day for us to celebrate and recognize that the hard work of organizing and educating eventually pays off."
A day for Rhode Islanders to celebrate, indeed.
back to top