Transforming the War on Drugs: Warriors, Victims and Vulnerable Regions edited by Annette Idler and Juan Carlos Garzon Vergara (2021, Oxford University Press, 584 pp., $34.95 PB)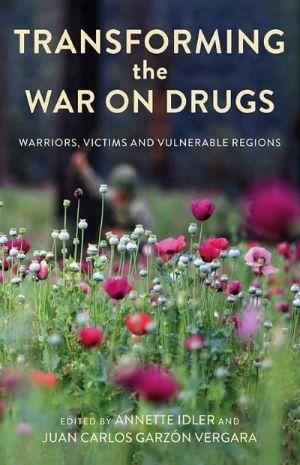 If you have been watching the growing fissures and fractures in the global prohibitionist consensus embodied in the United Nation's three-treaty international drug control regime (IDCR) and are expecting the whole thing to come crashing to the ground sometime soon, don't hold your breath. That is the message that comes through loud and clear in
Transforming the War on Drugs
, an essential collection that comprehensively analyzes the past and present of global drug policy and points the way to a different, better future.
As the contributors make clear, while the IDCR is suffering well-earned stresses, especially around its failure to succeed on its own terms -- reducing drug use and the drug trade -- and while the "Vienna consensus" may be fraying, the global reform movement that has been building since the failure of the 1998 UN General Assembly Session (UNGASS) on Drugs to meet its goal of eradicating drug use within a decade has yet to jell.
As Monica Serrano explains in "A Forward March Halted: The UNGASS Process and the War on Drugs," while Latin American nations such as Colombia and Mexico called for a reconsideration of the IDCR, paving the way for the 2016 UNGASS, they did not succeed in building alliances with other nations that could push the process forward. That was not only because of deficiencies in those countries' efforts, but also because, despite the ever-increasing calls for change, a majority of countries around the world still subscribe to the law enforcement-heavy tenets of the global drug prohibition regime.
That is despite the now quite clearly understood harms that the IDCR imposes on different countries and groups around the world. Whether it is enabling the rise of violent drug trafficking organizations, destroying the livelihoods of poor drug crop farmers, creating horrendous human rights violations, filling prisons around the world, or creating needless suffering for drug users, the international response to drug use and trafficking is creating real, calculable negative consequences.
As coeditor Annette Idler demonstrates in "Warriors, Victims, and Vulnerable Regions," the heedless harshness of the IDCR is embedded in its very DNA. From the beginning, the US "war on drugs" model and the rhetoric of drugs as "evil" and an existential threat to the security of nation-states has excused the sort of "state of emergency" measures -- criminalization, law enforcement crackdowns, militarization -- that, while not even managing to make countries more secure, manages to bring not security but insecurity to communities and drug using individuals.
Other contributors to the volume make that point in great detail in case studies of Latin America, Mexico and the Caribbean, West Africa, the Crescent (Afghanistan, Iran, Pakistan), the Golden Triangle, and Russia. How can one argue that drug prohibition has brought security to Mexico, with thousands of killings each year and police forces so corrupted you don't know which department is working for which cartel? Likewise, West Africa, where drug prohibition has so corrupted some governments that "the state becomes a threat to its own self"?
Given current events, the case of Russia is particularly interesting. It is one of the staunchest supporters of the current IDCR, but not just because of its inherent authoritarianism. Russia didn't really have a significant drug control regime until the post-Soviet era of the 1990s, and then it modeled its apparatus on that of the DEA. But even though it looked to the West for drug war expertise, its drug concerns were primarily domestic: It has one of the world's most serious heroin problems, one driven by supply rather than demand, contributor Ekaterina Stepanova explains. That supply is coming from Afghanistan, and Russian addicts account for about one quarter of all Afghan heroin production. One more reason for Russia to be unhappy with the US and NATO, who, in two decades of occupying Afghanistan, never effectively suppressed the poppy crop.
One of the more fascinating chapters is on rethinking the metrics of measuring success in drug policy. Instead of measuring "securitized" items such as acres of drug crops eradicated, the amount of drugs seized, the number of traffickers arrested -- all of which really measure repressive enforcement activity -- contributors Robert Muggah and Katherine Aguirre argue for new metrics for a new framework for evaluating drug policies. With broad goals of improving the health and welfare of the population and enhancing the safety and security of people who use drugs and the broader public, instead of measuring busts and seizures, we should be quantifying metrics for decriminalizing drug use (is it decriminalized, how many legislative measures are aimed at it, how many civil society groups are involved, how many people are being arrested and imprisoned) and curbing drug harms through public health measures (number of drug overdose deaths, number of other drug-related deaths, prevalence of drug-linked infectious disease). This really make sense if we are actually interested in improving lives as opposed to the quixotic quest to eliminate drug use.
There is a whole lot more to this volume. It is a comprehensive, systematic effort to theoretically, conceptually, and empirically investigate the effects of the IDCR and offer a more human alternative. Anyone seriously interested in working to understand and change the global drug prohibition regime need a well-thunbed copy of this on his bookshelf.