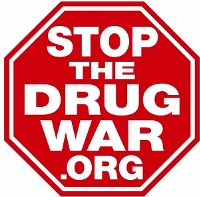 Field drug tests are unable to distinguish between marijuana and hemp, and that has thrown a wrench in marijuana prosecutions in states that have legalized hemp only.
Please make a generous donation, to help us meet the opportunities and the crises today in drug policy.
Two former NYPD cops get a hand-slap for raping an 18-year-old they busted for marijuana, a former DEA agent's crooked activities are going to get him sent away, and more.
Federal officials issue a warning on marijuana for teens and pregnant women, the Philadelphia DA deals with a drug sample testing crisis, Colombian FARC dissidents pick up their guns again, and more.
The president reiterates his states' rights approach to marijuana legalization, the DEA goes massively after opioids in a Florida operation, Thailand okays hemp and cannabis extracts, and more.
Half of Arizonans area ready to legalize marijuana, a Mexican senator files a marijuana legalization bill, US and China officials trade fentanyl complaints, more.
Permission to Reprint:
This issue of Drug War Chronicle is licensed under a modified
Creative Commons Attribution license
. Articles of a purely educational nature in Drug War Chronicle appear courtesy of DRCNet Foundation, unless otherwise noted.