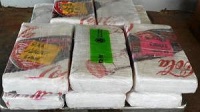 It's not ineffective interdiction that helps drug trafficking organizations expand, but interdiction itself.
Florida battle brews over limiting THC in smokable marijuana, Michigan's unlicensed dispensaries get at least a temporary reprieve, Oregon growers get a heads up from regulators, and more.
A North Carolina deputy tries to set up his ex-grlfriend's new boyfriend, a former Texas cop heads to federal prison for helping a "rip crew" steal loads of dope, and more.
A Hawaii decriminalization bill nears passage, some California cities are suing the state over being forced to allow marijuana deliveries, the 3rd Circuit clarifies the law on intent to distribute, and more.
A drug defelonization bill advances in Colorado, marijuana legalization bills advance in Connecticut, Oregon medical marijuana growers are put on notice, and more.
Trump's attorney general is down with letting states decide their own pot policies, New York City bans most pre-employment drug testing for marijuana, a federal bill to increase educational opportunities for prisoners gets filed, and more.
Permission to Reprint:
This issue of Drug War Chronicle is licensed under a modified
Creative Commons Attribution license
. Articles of a purely educational nature in Drug War Chronicle appear courtesy of DRCNet Foundation, unless otherwise noted.