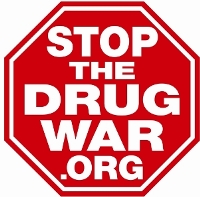 It's been long enough to begin to be able to measure what happens when marijuana is legalized. Things will continue to evolve, but so far the picture is pretty bright.
Medical marijuana is safe from the Justice Department for another few days, governors in New Jersey and Rhode Island make noises about expanding medical marijuana programs, Georgia voters are ready for a full-fledged medical marijuana law, and more.
The Baltimore cop who accidentally recorded himself planting drugs gets indicted, two Indiana jail guards go down in separate cases in two days, a Pennsylvania probation officer gets in trouble for trying to win sexual favors, and more.
StoptheDrugWar.org has internships this semester and following in foreign policy, legislative advocacy, writing, nonprofit administration, and technical work.
Vermont becomes the 9th legal marijuana state, Illinois lawmakers take up legalization, the US Sentencing Commission proposing increasing fentanyl penalties, and more.
Trump renews the opioid crisis emergency even as an opioid commission member calls it "a sham," things are looking up for Michigan marijuana legalizers, the French parliament will take up drug decriminalization, and more.
More than a million Floridians would regain their right to vote in November after an initiative qualified for the ballot, California small pot growers sue to stop concentration in the industry, New York City sues opioid manufacturers and seeks half a billion in damages, and more.
It's the time of year for marijuana to start popping up in state legislatures, Rhode Island's governor proposes expanding the state's medical marijuana system, Trump's wet-behind-the-ears deputy drug czar is stepping down, a new poll finds support for criminal justice reforms, and more.
Permission to Reprint:
This issue of Drug War Chronicle is licensed under a modified
Creative Commons Attribution license
. Articles of a purely educational nature in Drug War Chronicle appear courtesy of DRCNet Foundation, unless otherwise noted.