Big congratulations are in order for our German brethren. They have scored a major publicity and resource coup that will definitely help them advance the cause.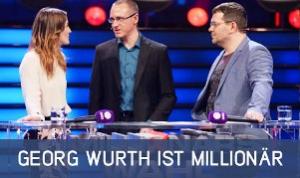 Cannabis activist George Wurth of the German Hemp Association (
Deutscher Hanf Verband
) has won a million-Euro prize to expand the group's legalization activism from the German television program Millionaire Choice (
Millionaerswahl
).
Millionaire Choice is a reality TV program where self-selected contestants compete in a multi-stage process of elimination to see whose idea will be funded. The cross-media campaign is determined by the vote of viewers.
"The madness! George has won. We are completely overwhelmed. The work of 10 years has now finally paid off. Along with the events in the US and Uruguay, this can be the starting point for the hemp movement gaining strength in Germany," the group's home page exclaimed.
"January 25, 2014 will be long remembered by the DHV and raise the German hemp scene to a new level," the group said in a weekend press release. "When we decided to participate in the Millionaire Choice, we would not have expected this tremendous success. We thank you all for your votes and your infectious enthusiasm. You have voted for George, and without you this huge success would not have been possible."
Looking for the easiest way to join the anti-drug war movement?
You've found it
!