Legal retail marijuana sales to adults got underway in Denver (and the rest of Colorado) a couple of hours ago. This is a historic day, as Amendment 64 finally goes into full effect.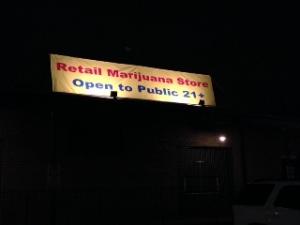 We have a reporter on the scene, Rebecca Chavez, who wrote yesterday's story about dispensary owner Luke Ramirez, and Rebecca will be filing a story shortly.
But I didn't want to dally with shouting hosannas from the rooftops.
And I wanted to get this pic posted. It pretty much says it all.
Looking for the easiest way to join the anti-drug war movement?
You've found it
!