President Obama this afternoon signed into law the omnibus farm bill, which includes an amendment allowing for research into hemp production in states that have authorized it.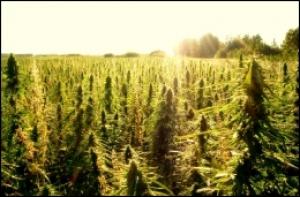 Hempsters are happy as history is made.
"With the U.S. hemp industry estimated at over $500 million in annual retail sales and growing, a change in federal law to allow colleges and universities to grow hemp for research means that we will finally begin to regain the knowledge that unfortunately has been lost over the past fifty years," says Vote Hemp President Eric Steenstra. "This is the first time in American history that industrial hemp has been legally defined by our federal government as distinct from drug varieties of Cannabis. The market opportunities for hemp are incredibly promising—ranging from textiles and health foods to home construction and even automobile manufacturing. This is not just a boon to U.S. farmers, this is a boon to U.S. manufacturing industries as well."
Read Vote Hemp's press release here.
Looking for the easiest way to join the anti-drug war movement?
You've found it
!