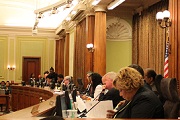 Things are looking for good for a vote for marijuana decriminalization in the DC city council this afternoon. From Phil's "Chronicle AM" drug policy roundup yesterday:
DC City Council Votes on Decriminalization Tomorrow. The DC city council is expected to vote Tuesday to approve the "Marijuana Possession Decriminalization Amendment Act of 2014 (Council Bill 20-409)" would eliminate the threat of arrest for possessing or using marijuana and ensure that people are no longer saddled with life-long convictions that make it difficult to obtain employment and housing. Instead of arresting people the bill would impose a $25 civil fine for possession and a $100 civil fine for smoking marijuana in public places, as well as forfeiture of the marijuana and any paraphernalia used to consume or carry it.
At $25 per violation -- less than most parking tickets, and less than the $100 fine originally proposed for the bill, the legislation would be a really nice step forward. (On the other hand, if one counts the value of the marijuana that police will still seize, the net cost might still be more than a parking ticket.)
Looking for the easiest way to join the anti-drug war movement?
You've found it
!